In a day and age with so many social media platforms, it can be extremely hard to keep up. We've gone from a social climate in which we strive to consistently post to our grid, to a social climate that requires us to show up on TikTok, Instagram stories, Instagram Reels, YouTube Shorts, Pinterest- the list goes on and on. In this post, you will learn how to batch-create and optimize content so you can stay consistent on social media.
Shoot content quicker
My first tip that will help you stay consistent on social media is to shoot content quicker. Tools like Lens Buddy, an app that allows you to take hundreds of self-timer photos in only a few minutes, can help you effectively and efficiently batch content. While shooting content in public with a tripod may be embarrassing, and will definitely prompt every passerby to comment, it is very effective if you are on a tight schedule or do not have a team readily available to help you shoot.
You don't need new content for every platform
Don't overthink sharing the same content on multiple platforms. Yes, certain content may perform better on certain platforms, but there is so much content that can also be repurposed. And nobody will notice (or care) if you share repeat content here and there. They probably don't follow you on all platforms and wouldn't get every single piece of content pushed to their feed in the first place.
Repost video content across platforms
When Instagram, YouTube and Pinterest saw the success of TikTok, they launched similar verticals called Reels, YouTube Shorts and Idea Pins, and Instagram Reels are also pushed to Facebook. The types of videos that should be posted on these platforms are essentially the same as the videos you post on TikTok: short-form, vertical videos that follow trends, use sound clips, give a glimpse into your life or showcase your product or service in an effective way that is true to your brand.
Film content on your phone or camera rather than in social apps
Instagram doesn't want to see the TikTok watermark all over its platform, and the same goes for TikTok and YouTube Shorts. You can easily repurpose content across these platforms by filming and editing outside of the TikTok/Instagram app. My favorite editing platform is iMovie, a free application that comes will all Apple computers. Filming and editing outside of social apps allows you have to a clean, watermark-free copy of your video.
Pro tip: If you are wanting to use features within the TikTok app, such as the greenscreen tool, film in the TikTok app and screen-record your content to obtain a non-watermarked copy. When typing your description on TikTok, just click the top right corner to preview your video and screen record!
It's no secret that algorithms are tough to crack. One thing we know to be true about algorithms is that they like new content that utilizes the app's tools and features. After filming and editing your content outside the apps, use text, stickers and sound options within the app you are posting on to make your content more favorable to the algorithm.
Use the same footage multiple ways
My next tip that will help you stay consistent on social media is to use the same footage multiple ways. By filming on your phone or camera, you have the ability to repurpose clips or even bring old content back to life. For example, if you filmed a "get ready with me" with a clip of your outfit, you can then reuse that clip in an "outfit of the week" video, or a clip used in a "cook with me" video could also be used in a "day in the life" video.
Turn photo content into video content
Instagram photos can easily become reels or TikToks by setting the photos to a trending sound. Try creating photo dumps or trying out whatever the trending TikTok video style of the week is.
Did you know that live photos can also be converted into short video clips? You can easily transform a still photo into a video by opening the photo app on your iPhone, selecting live photos, clicking the "Share" button and selecting "Save as Video."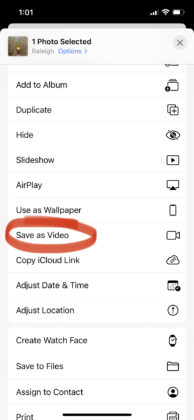 Film your podcast
Optimize your podcast by also filming it and uploading the video version to YouTube or Spotify. Filming your podcast will make it more personable and will give you the opportunity to include photos or video clips. You can also clip key moments of your video to be uploaded on TikTok, Reels or YouTube Shorts.
Pro tip: Mention clips or photos you have inserted in the video version in the audio version of your podcast. This will encourage listeners to also check out the video.
Share your TikToks and Reels as Instagram Stories… or turn your Stories into reels
Reposting TikTok and Reel content on Instagram stories is an easy way to make sure your followers see your content, and it's also an easy way to stay consistent on stories.
Instagram recently launched a feature that allows you to turn stories into a Reel with the press of a button. Instagram loves when users utilize their new features, so the algorithm may reward you for using it. If you plan on using this feature, be strategic with your stories so they will flow as a reel.
Post photos on Pinterest
I know we have focused a lot on video content in this post, but Pinterest is also a booming social platform for photo content, especially if your goal is to direct people to your website. While traditional pins take a little longer to gain traction than idea pins, they can be scheduled in advance through the Pinterest Scheduler and can link back to your website. The process of creating and scheduling pins in the Pinterest Scheduler is rather time-consuming, but it may be worth it. Several bloggers and business owners have reported Pinterest as their number one traffic source.
Don't get too bogged down by the details
I personally spend way too much time trying to perfect every detail in the content I post. Content doesn't have to be picture-perfect. In fact, more authentic, less curated content often performs better than content that takes hours to edit. And besides, the tiny thing you are sweating probably isn't even noticeable to the viewer.
Hire help
Our last tip for how to stay consistent on social media is to hire extra help. With so many platforms on your plate, it can be easy to burn out. Hiring people that can help tell your story and share your purpose will only benefit you in the long run. If you are in need of social media assistance or management, let us know! We offer content strategy, creation and social media management services that will help you stay on top of your social media game. Contact us today!
Other Posts You May Like: