Below is the latest announcement from our client, Journelle.
Journelle Forces the Conversation About Lingerie into the Limelight
Spring Campaign Focuses on Squashing Stereotypes and Promoting Power
New York-based lingerie company Journelle is changing the way we talk about lingerie. In a world where lingerie choice seems to have two extremes, slim and sexy or boring and basic, Journelle is calling the bluff of those brands and asking Who says?
Who says support can't be stunning? Who says basics can't be beautiful? Who says one brand fits all? Who says power can't be pretty?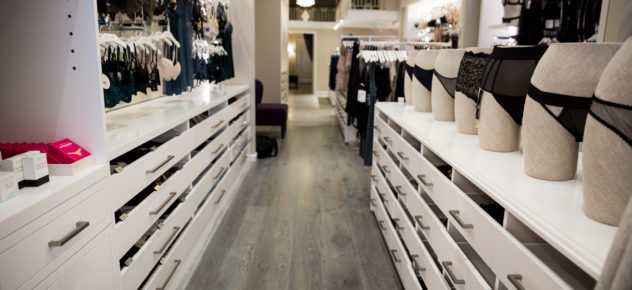 "It's not just Victoria's Secret, Third Love or bust," said Sandra Rose, Vice President, Merchandising and Brand, Journelle. "Our Who Says campaign is about empowering women to be confident in their personal beauty, style and shape whatever it may be, because at Journelle the goal is to help each woman emphasize and uncover her own personal brand of beauty, and in turn her confidence."
The launch of Who Says emphatically declares that there's a beautiful in between, no matter your size or shape, and it can be found at Journelle. This spring, Journelle wants to show women that there aren't just two trains of thought when it comes to shopping for lingerie. There's a third option, the best option for variety.
Journelle, long-known for its personalized in-store fitting experience, offers up knowledge and advice for those looking for the perfect undergarments. By helping customers find a comfortable fit, Journelle's staff often provides a confidence boost as well.
"We're here to help customers celebrate their bodies and their femininity as they see fit," Rose added. "With Who Says, we want to communicate that you don't have to limit your options when it comes to lingerie. The biggest trick that's being played on women today is the idea that your femininity detracts from your identity when in fact, we argue it's this very femininity that makes you formidable."
Journelle offers exceptional fitting experiences in its boutiques located in New York and Chicago. Designer brands as well as Journelle's private label are also available online. For more info visit www.journelle.com and @shopjournelle.
ABOUT JOURNELLE
Journelle is a designer lingerie store based in New York City and a favorite online lingerie mecca for the modern woman. Our brand presents a tastefully curated selection of lingerie and accessories and provides customers with compassionate, expert service. It is our mission to help women feel wonderful from the inside out, starting at the underpinnings.