More exposure and higher attendance were the goals of the Briar Chapel marketing team as it planned its 9th Annual Pepper Festival to support North Carolina agriculture. Briar Chapel is one of the largest master-planned green communities in Raleigh-Durham and part of Newland Communities, the country's largest private residential real estate developer. It turned to Clairemont Communications to reengage past festival participants and grab the attention of new audiences.
Strategy
Clairemont spiced up Briar Chapel's approach with a creative social media personality quiz designed to promote the Pepper Festival to Raleigh-Durham-Chapel Hill residents. Clairemont had two objectives in mind: to increase visibility for the Pepper Festival and build third-party credibility for the event.
Execution

Spark Social Sharing
Clairemont wanted to expand the event's social media strategy to incorporate a fun, interactive approach that would attract audiences untapped by traditional efforts. We researched the most effective types of personality quizzes and crafted a short online experience that would encourage users to share with a network of friends across multiple platforms, hence organically expanding the festival's visibility.
"How Spicy Is Your Personality?" Quiz!
Rather than settle for traditional promotions, Clairemont turned up the heat to design an interactive social media quiz that piqued viewers' interest with a play on words: "How Spicy is Your
Personality?" For an unexpected twist, we crafted seven short questions that had little connection with festivals, food, peppers or Briar Chapel. Instead, the quiz featured queries like "What's your getaway vehicle?" or "Pick Your Poison" – a question followed by four beverage choices ranging from wine to milk with cookies.
The quiz posed other clever questions like "If your pants were on fire, you would …" and "your favorite hot spot is …" to emphasize the heat theme of the event. Clairemont peppered the content with twists of wit and humor along with themed verbiage connected to spice, fire and heat commensurate with the Pepper Festival.
The Spicy Personality Results
Once users took the quiz, they found results that stretched beyond the expected, standard "mild, medium or hot" descriptions. Instead, Clairemont crafted five positive personality types that featured popular phrases or song lyrics related to heat, fire and smoke. These descriptions told people if they were a Mild Child, a Sweet Heat, a Spiced Just Right, a Firecracker or a Flamethrower, which contributed to our goal of unexpected and quirky content.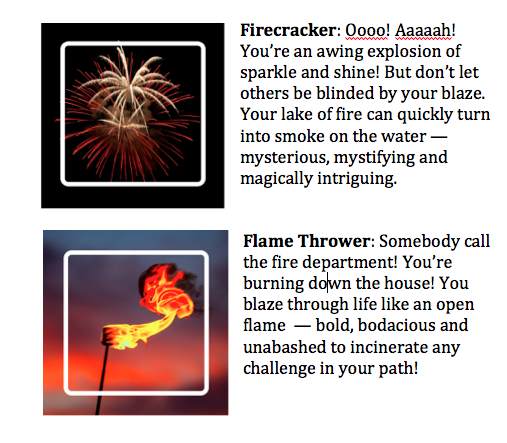 Participants could then share their prescription and accompanying image on Facebook, encouraging friends to take the quiz as well. The quiz also included an opportunity for viewers to enter for a chance to win tickets to the 2016 Pepper Festival, along with details and links to the festival.
Results
Clairemont exceeded each of its objectives of quiz shares, visits and entries, boosted attendance by 10 percent and rolled out the largest festival to date.
The work Clairemont Communications conducted in partnership with Briar Chapel earned an Award of Excellence for Creative Tactics and an Honorable Mention for Social Media from the North Carolina Public Relations Society of America. We are proud that this campaign represents two of the 175 awards we've received since starting Clairemont in 2010.
To read more about the work we do with clients, please visit the case study section of our blog.