Chief Tracy Mosley has dedicated most of his life to the fire service. He is a 37-year veteran, following in the footsteps of his Father, William L. Mosley, who served in the volunteer fire and rescue services of Wilson County. Chief Mosley began his fire service career with Silver Lake Volunteer Fire Department as a volunteer. He then moved on to a paid career with Wilson County, serving in roles from firefighter to deputy fire chief.
The fire service and volunteering are dear to Chief Mosley as he knows the state, and the nation, are in dire need of volunteers. Approximately 75% of the state's fire service are volunteers. As the population grows, however, volunteerism is not keeping the pace. Due to high expectations and aging demographics, the pool for those donning the gear is draining.
Dedication pays off
Clairemont has been fortunate to partner with Chief Mosley and the North Carolina Association of Fire Chiefs (NCAFC) on a two-year campaign to recruit and retain volunteer firefighters across 15 of the most at-risk agencies across the state. This is the second campaign we have partnered with Chief Mosley on over the last four years. During the campaigns, Chief Mosley has gone above and beyond his role as program coordinator with the NCAFC. He has worked tirelessly to recruit and retain volunteer firefighters across the state.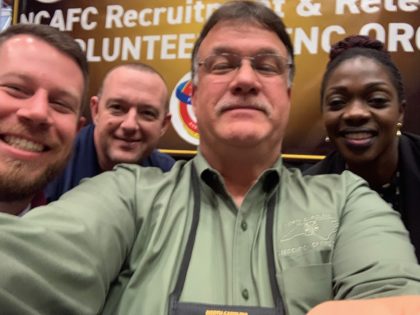 A true family man, and man of faith, Chief Mosley is the most down-to-earth, gentle soul. He always shows up for you, calls to check in on you, honestly wants to hear how you are doing and has the best sense of humor. Chief Mosley is truly dedicated to the fire service, in his hometown, across the state of North Carolina and across the nation. He sincerely wants the best for every part of the fire service. He wants those involved to love what they do and stay for years to come.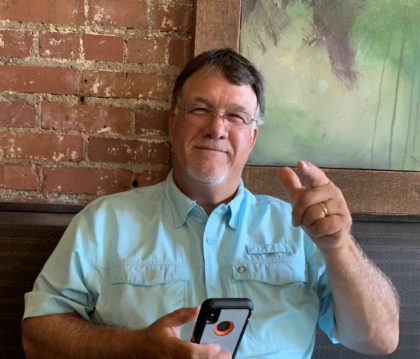 This has been evident in his work during the two campaigns. He takes time away from his full-time job to make weekly check-in calls, sacrifices time with his beloved family to lead online classes and attend conferences. Chief Mosley even drives across the state to visit the rural agencies in need of volunteers.
Campaign is a success
With Chief Mosley's efforts, there have been 474 new recruits at the 15 agencies during the two-year period. This number is amazing! Even more amazing is when you consider this was all done during the pandemic. But the state of North Carolina is still in urgent need of volunteer firefighters. There is more work to be done, and Chief Mosley knows this.
Chief Mosley continues to serve many roles in the fire service. He is currently assistant chief with Silver Lake Fire Department, officer of NCAFC, member of IAFC and NCSFA. Not to mention, the program coordinator on the current grant that NCAFC received from FEMA.
Coming to a close
This grant may be ending but his dedication and passion will certainly continue, whether that is to continue recruiting volunteer firefighters or focusing his time on his family and faith. There is no stopping this man. He will always work to make someone's life better, whether that person knows it or not.
I have been lucky enough to work with Chief Mosley for the past three years, at my previous job with IAFC and now here at Clairemont. He has been a client, colleague and most importantly a true friend. We would like to extend a thank you for your service, time, hard work and most importantly for sharing your passion. Closing this grant after the craziest two years and still finishing with truly impressive numbers for volunteer recruitment could not have been done without you, Chief!