Briar Chapel is one of largest master-planned green communities in North Carolina and part of Newland Communities, the country's most prominent privately held residential real estate developer. As it approached its eighth year in business, the marketing team turned to Clairemont, its agency of record, to continue to position Briar Chapel as one of the Triangle's most desirable living destinations.
Strategy
Clairemont crafted a strategy to reenergize Briar Chapel's organizational identity through media relations, creative on-site events and community partnerships. Since research showed that target buyers valued self-expression and innovation along with a sense of community, our methods provided opportunities for prospects to interact and personally experience the relational atmosphere at Briar Chapel while highlighting its cutting-edge, customizable lifestyle offerings.
Execution
The Pepper Festival: Hosted on-site at Briar Chapel, the annual Pepper Festival celebrates local culture and food, featuring the largest chef competition in the state. As the team planned for the 9th Pepper Festival, Clairemont spiced up the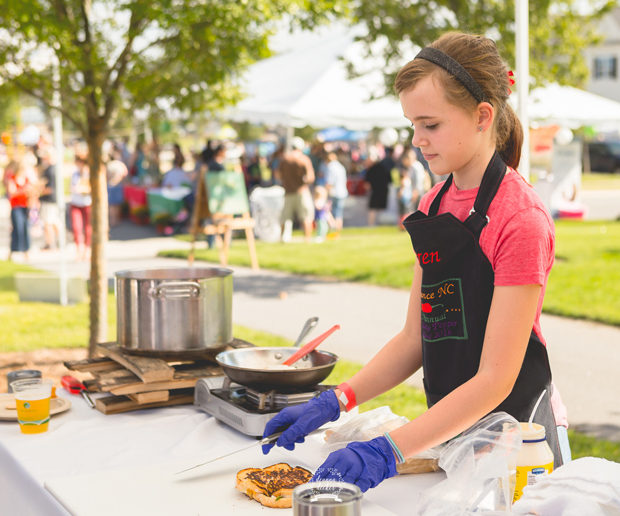 event to increase attendance and gain stronger visibility for Briar Chapel. To connect with families, we launched the inaugural Spicy Kid Chef Competition, pairing top chefs with aspiring "Pint-Sized Chefs" and challenging the peppery pairs to craft their most creative pepper-themed dish. We tapped into the creative class by hosting a "Hot Glam Fashion Show" where designers showcased pepper-themed couture.
To boost online visibility and social sharing, Clairemont created an interactive personality quiz peppered with twists of wit; seven short questions posed unexpected queries and prescribed a pepper-themed personality type (like "Mild Child," "Sweet Heat" or "Flame Thrower"), encouraging users to share their results and enter to win festival tickets. Creative and individualized pitches piqued the interest of target influencers. These efforts attracted a record 2,500 festivalgoers on-site to Briar Chapel and secured record coverage, including features in regional magazines and on TV segments.
Launching Veranda: As Briar Chapel prepared to unveil Veranda, its first commercial segment, Clairemont added zest to the strategy to snag the interest of media and guests. For example, we bypassed standard shovels at the ground-breaking ceremony and opted instead to put our officials at the helm of Bobcat excavators.
The ground-breaking ceremony secured visits from the Triangle's top reporters through creative pitches and placed stories in almost all of the area's major outlets. To foster community engagement before grand opening, Briar Chapel hosted "Meet the Neighbors," inviting residents to enjoy complementary food, beverages, live music and services from their new Veranda neighbors at a block-style party. Veranda opened its doors as an attractor for homebuyers and destination for Chapel Hill visitors.
Partnerships and Community Events: To attract prospective homebuyers, Clairemont ditched blasé home tours and helped launch a series of creative on-site events. The team reinstated Music in the Meadow, an outdoor summer concert series featuring local bands, food trucks and family activities in Briar Chapel's renowned parks. Briar Chapel also hosted a
Triangle Off-Road Cyclists (TORC) race to attract the public on-site while showcasing its extensive trail system. Standard open-house weekends were transformed into interactive celebrations that offered guests guides to explore amenities and gift certificates to enjoy the shops and restaurants at Veranda, Briar Chapel's new commercial segment.
Online Presence: Clairemont retooled Briar Chapel's website content to reflect its innovative homes and the sense of community that target demographics prized. To boost reader interest, we transformed data into useful, creative content, such as a DIY home blog series, sneak peek tours of developments and resident spotlights on programs such as "Pooches on the Porch."
Creative Media Pitches: Clairemont brainstormed creative angles beyond home construction to pique the interest of reporters throughout the year. Our pitches explored everything from Briar Chapel's commitment to green building and its new age-qualified section to its active, vibrant vibe.
Results
In direct correlation with our stated objectives above, we met every goal, exceeded expectations and produced the following results:
Clairemont secured a total of 36 news stories and blogs.
Special events drew an additional 4,000 people on-site.
Home sales increased by 49 percent in 2016.
As a result of this campaign, Clairemont successfully positioned Briar Chapel as one of the top places to live in the Triangle, which helped Briar Chapel meet its annual sales goal and earn the title of Best Neighborhood by Chapel Hill Magazine.
The work Clairemont Communications conducted in partnership with Briar Chapel earned a Gold Award in Organizational Identity/Promotion the Raleigh Public Relations Society. We are proud that this campaign represents two of the 175 awards we've received since starting Clairemont in 2010.
To read more about the work we do with clients, please visit the case study section of our blog.