This year's shift in social norms has shaped real estate growth, from the role of the home in daily life to how we think about retail developments. Nothing has remained untouched, and today's fledgling trends will dictate next year's trajectory.
We connected with industry leaders to get a peek at what's ahead for real estate — and how it impacts your marketing and PR efforts.
Commercial Real Estate
Driven by Connection and Experience
While health and safety remain a preeminent concern, buyers still crave the connection of in-person interactions. Yes, the uptick in virtual offerings amidst COVID now affords people access to new activities – like a zoo tour online. But real estate leaders are seeing that there is no substitute for personal experiences.
Jim McMillan, principal at Edinburgh Development, underscored the importance of creating an "Amazon-proof" product — an experience people can't buy online.

"We're seeing that people still want to get out and see other people, even if from a safe distance," said Jim. "So we concentrate on crafting experiential, service-related destinations with a hefty dose of outdoor options and open space."

For example, Jim's team is developing Treelight Square, the dining and retail district at Wendell Falls, a Clairemont client. Jim's team is incorporating elements such as a rotating mural station featuring local artists. Outdoor dining takes precedence, as does more expansive walkways and trail-esque systems.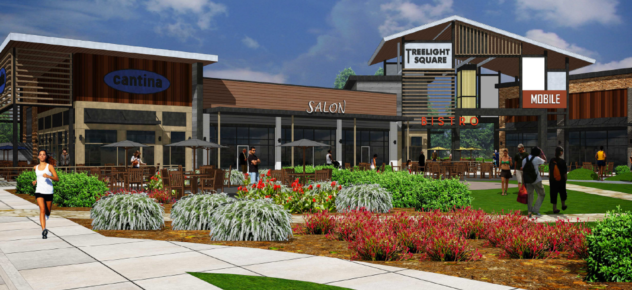 Jodi Leidolf, project director with Montgomery Development, has been helping to reimagine commercial construction in response to COVID. Retail bays now entail more floorpan flexibility, allowing features like walk-up windows and extended personal space for customers. Rather than ditching community activities, like the arts, commercial developers are creating outdoor cinemas to anchor mixed-use spaces.
And surprising tech is evolving to mimic human interaction. How might you feel about a hologram attendant taking your tickets for the outdoor concert? "People crave the efficiency, walkability and the energy that connection provides," said Jodi.

"The Triangle market is an institutional market now, with big developers from all over the country coming here to develop," said Lee Norris of Greymont Development. "The predominant view is that it takes 18 months for a commercial project to be entitled and ready to go. Many people hope that 18 months from now COVID might have abated or have a vaccine, so development is not slowing."
Office Space
Reimagining Cubical Life
As companies have instituted work-from-home policies, office space development has slowed — especially for projects in the early phases. But this isn't a permanent halt. According to Garretson Browne, a project manager in real estate development, office spaces are evolving but alive.

"Things are still largely optimistic in real estate development," said Garretson. "Office space construction might look different for awhile, but ultimately, companies still benefit from offices since it showcases their culture — something that isn't the same from home."
Office space developers are focusing on healthy-living features, like HVAC and mechanical systems that reduce microbial exposure and increase fresh air circulation. Touch-less elevators are becoming a mainstay. Office furniture manufacturers are exploring refined cubicles with options like closing glass doors and dividers. While construction has slowed in the arena, Garretson believes that we haven't seen the last of office or co-working development.
Residential Real Estate
Flexible, Efficient and Connected
Residential real estate seems to be the bright spot in today's industry.
With an emphasis on the home, buyers are evaluating their spaces, craving flexible houses that accommodate office life, school life and home life. Many are reconsidering their current homes and finding them coming up short. Bolstered by low mortgage rates, the market is witnessing a rise in new home sales — much of which is in suburban master-planned communities.
Wendell Falls, one of the largest master-planned communities in the Triangle and a Clairemont client, is exceeding sales goals and witnessing a banner year in growth. Buyers are craving more nooks and crannies rather than the previously popular open floor plans. Closets are evolving into podcast studios or video conference rooms. Patios and porches afford people neighborly interaction from a safe distance — all of which Wendell Falls provides.

Outdoor amenities are key selling points as well. Trails, spacious parks with fresh air and shade, and pools afford residents opportunities for fitness and connection. Wendell Falls, for example, touts an outdoor fit pod along with a bevy of parks and miles of trails.
Mike Scisciani, regional vice president of operations at Landeavor, noted the importance of digital marketing, social media marketing, online concierges and virtual tours in lieu of foot traffic.
"Teams have to be more creative to showcase the lifestyle component of master-planned communities in a time when people won't necessarily come on-site," said Mike. "Pictures, videos, virtual tours and thoughtful and constant contact have become cornerstone marketing tactics."
What does this mean for marketing?
A lot. Something that isn't going away is the critical importance of connectivity. While it might look different than on-site events, buyers still need to experience the lifestyle of a community or retail center. Creative virtual reality experiences, new uses of drone footage and hologram concierges are just a few applications for digital media to bridge this gap. Now more than ever, prospective buyers expect real-time digital support and easy access to 360-degree immersive tours.
In addition, real estate teams should showcase their project's health and safety features to build peace of mind with potential clients. Hone ways to share the lifestyle elements of your residential or commercial development through retail spotlights, online events or interactive video community events. And above all, remain flexible and supportive with your customer in mind.
At Clairemont Communications, we craft creative, effective marketing and PR campaigns that make a difference for real estate clients.
Drop us a line to discuss opportunities for your company!