Matthew McConaughey's flick, "Failure to Launch," spins the yarn of a young professional who can't seem to fly the coop. At age 35, he relishes the perks of rent-free living with his parents along with his mother's home-cooked meals and in-house laundry service.
While fodder for one of the leading romantic comedies in 2006, this story has since typified today's housing market. In 2012, more than 18 percent of the American population resided in a multi-generational family household, defined as home with three or more generations under one roof.
Junior's Back. And So Is Granny.
The trend skyrocketed during the 2007-2009 recession when insufficient jobs and waning pensions forced families to pool mortgages to survive. What was born out of necessity has since beget a luxury. Families willingly benefit from combined resources, shared comforts and (let's not forget) direct access to the grandkids.
The multi-gen housing trend has left its mark on the real estate industry. Nationally acclaimed home builder Lennar Homes, for example, rolled out NextGen, a new brand featuring a "home within a home" for this target market. The MEDCottage, another line's portable "granny pod," features a 12 to 24-foot flat plopped directly into your own backyard. Forget going "over the river and through the woods" to grandma's house. You barely have to make it out the back door.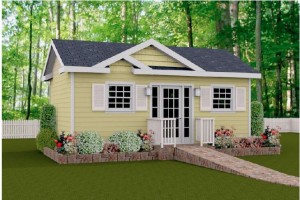 A New Floor Plan for PR.
So what does this mean for real estate PR?
Lots. As families place a premium on lifestyle, it becomes vital that we create and market opportunities that engage diverse age groups. For example, Briar Chapel by Newland Communities, one of Clairemont's longstanding clients, offers a range of internally and externally marketed activities. Their Lego Camp draws tykes from across the state while their water aerobics engage active older adults from around the community.
Briar Chapel also provides opportunities from the other side of the coin–large-scale events that nurture inter-generational collaboration and maximize shared interests (such as the multi-generational love for the Rolling Stones—who knew?). Briar Chapel's acclaimed Pepper Festival fosters relationships by providing a distinct draw for every interest and demographic—from kid-friendly acrobatic showcases to "adult-friendly" craft beer tastings. Strengthen relationships, we say, because the family that plays together, stays together…and will likely "pay" together for houses in your community!
Invite All the Right House Guests.
These mufti-faceted avenues provide equally diverse opportunities for us to expand media relations. Not only do media highlight breaking news and overarching stories, but many also pursue niche interests—such as the Triangle's trending wave of "beer experts." Effective public relations strategies should dig deep to suss out fresh angles on stalwart offerings for specialized reporters, bloggers and social media experts. Creative pizzazz can unearth a whole new wave of dynamic media attention for a real estate community!
If all else fails, the multi-gen trend at least promises free babysitting from grandma for a last-minute date night, right?