Grounds Café, the café onsite at Wendell Falls, features local brews by Raleigh Coffee Company and Big Boss Brewery as well as fresh sandwiches, salads and desserts that change daily. In order to continue building onsite traffic and general visibility for Wendell Falls, Clairemont hosted a "Cheers and Cheese" event at Grounds Café for the region's leading food bloggers and culinary media.
The Pitch:
On July 21, 2015, Grounds Café and Wendell Falls hosted a build-your-own grilled-cheese and s'mores event for local food bloggers. Clairemont leveraged the hot Triangle food scene trend of DIY activities to draw media onsite. We also emphasized the distinct character of the café as one of the first in the town along with its commitment to another food trend — local sourcing.
Execution:
Food Blogger Outreach: Clairemont sent VIP invitations to key bloggers and local food media to make their own grilled-cheese and s'mores creations while enjoying "brews and brews"– craft beer and local coffee. Bloggers were tempted with the opportunity to name their own grilled-cheese to compete for a spotlight on the menu.
Beer Blogger Outreach: Local beer experts received teasers to try hot local brews on tap to pair with their grilled-cheese specialties.
Prep Kit: Clairemont provided guests with information to seed their news feeds leading up to the event. Bloggers received social media handles, sample tweets, images and newsy tidbits about the café and Wendell Falls that were easily spread online to build excitement.
Onsite Visuals: Clairemont recognized the importance of food photography and worked with Grounds Café to display a visually appealing and well-lit food spread. The social media handles for Wendell Falls were peppered throughout the space for easy access during the event. Bloggers received Wendell Falls "goodie bags" as departure gifts and physical reminders to talk about their experiences.
The Results:
As a result, WRAL Out and About and NC Beer Guys filmed and posted Periscope live feeds during the event, which featured an interview with Kelly Talbot, marketing manager, about the Wendell Falls new home community. In addition, the event also generated two home buyer leads who connected with Kelly to schedule a tour or get more information.
Collectively, these contacts created approximately 100 posts about Wendell Falls 
and Grounds Café. On Twitter alone, these posts reached a combined followership of approximately 50,000 followers. The event also generated five blog posts and vibrant buzz online, a vital building block in increasing the ongoing visibility and touting the well-rounded lifestyle at Wendell Falls.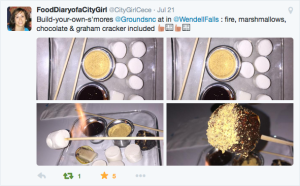 Want to learn more about the work we do at Clairemont? Read more of our case study blog posts here.