I can't think of anything sweeter than owning a chocolate factory. Sam and Starr Ratto, owners of downtown Raleigh favorite, Videri Chocolate Factory, made their dream a reality when they opened their doors in the Historic Train Depot back in early 2012. How Starr has managed to help launch and grow the business while starting a family and raising their young son, Salem, is an inspiring story. We recently connected with Starr who shared her secret to "keeping her cup full" along with some of her favorite downtown Raleigh hotspots.
What is your occupation/business?
I co-own Videri Chocolate Factory with my husband Sam.
What inspired you to start your own business?
Sam is born to make amazing chocolate from the bean, and I am born for customer service.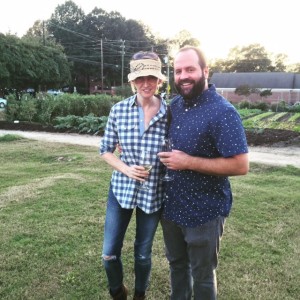 How has your career/professional life changed since becoming a mom?
I found out that I was pregnant 10 days after we opened Videri Chocolate Factory. Ha. My visions of 12-hour days starting a new business quickly became unreasonable. For the first time something physical dictated my ability to do what I had in my mind.
Any tips for juggling work and motherhood?
My best tip is to figure out your childcare plan early. I didn't do this and struggled the first year trying to make a plan.
Most important thing motherhood has taught you…
You gotta roll with it. Just when I think I have it all figured out, everything changes. Motherhood has also taught me that I sometimes need to take a few minutes for me. I saw a quote the other day that has been rattling around in my head. It says, "You can't pour from an empty cup." That really stopped me in my tracks. I let my cup get too empty too often.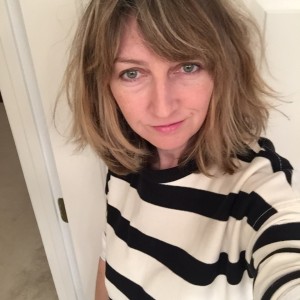 Describe your personal style…
When I close my eyes and envision my style, it is somewhere around a 1970 Bonnie Raitt or Maggie Gyllenhaal's character in Crazy Heart. But in real life it is great jeans and a Videri T-Shirt or something with stripes. My new power shirt is a striped long-sleeved with shirttails sewn on from J. Crew. If I do anything nice, chances are I will wear that!
What is a favorite place you have visited or trip you have taken?
I really love our annual trip to the Northwest Chocolate Festival in Seattle. Not only is it a very exciting week for the business, but Seattle is one of my favorite cities. I love how it feels like everyone there wants everyone else to succeed. This year I stayed two days after the convention totally alone and wandered around and did nothing!
What do you enjoy doing when you have down time?
I really enjoyed watching Parenthood and am sad that it is over. I also took Trapeze class at Cirque de Vol for a year, and that was awesome. Trapeze is so hard that you physically couldn't focus on anything else for that hour.
What are your favorite Raleigh hotspots?
I can't get enough of the Pina Colada (and the food of course) at Bida Manda right now. I also have vowed to do most of my Christmas shopping at Flight Raleigh, the new pop-up shop downtown. It is a partnership between two of my already favorite spots, Deco and Edge of Urge.
What are three of your "faves" right now?
I have a vanilla latte every single day at Videri. I finally got a pair of boots with a heel that I can wear all day (Korks at Belk!). I have also promised myself that I am going to indulge in a monthly housecleaner in 2016! Y'all hold me to it.
For an inside look at other inspirational moms, check out these previous Oh Momma Monday posts.