We are fortunate to live in a community with so many inspiring female business owners, entrepreneurs, bloggers and professionals. What I find truly amazing is that many of these women are also running households and raising young children. I, for one, am always looking for tips on how working moms are able to juggle everything. So during the next few months, Oh Momma Monday will be sharing a view into the lives of some of these busy women. Hopefully, something you read here inspires you!
Tori Fox wears many hats – entrepreneur, business owner, wife, mother of two young girls, motivator. In the spring of 2014, Tori opened Barre3 Raleigh-Five Points and since day one has been changing the lives, bodies and minds of women across the Triangle. Her positive energy is infectious – I was hooked after the first class! We were able to catch up with Tori to find out what inspired her to start her business and how she manages to maintain a healthy balance.
What is your occupation/business?
Owner, Barre3 Raleigh – Five Points
What inspired you to start your own business?
I knew what I wanted didn't exist in Raleigh. So it was up to me to get it here. In a word – passion.
How has your career/professional life changed since becoming a mom?
It's a lot more challenging to have a career once children enter the picture. I stayed at home until my youngest daughter was two and my oldest was five. If I'm perfectly honest, I have a lot of guilt when I'm working because I'm not with my kids and guilt when I'm with my kids that I have so much work to do. However, I wouldn't trade either for the world. It just requires a lot of juggling.
Any tips for juggling work and motherhood?
I'm really working on being more present…present when I'm at work and present when I'm with my kids. It helps with the aforementioned guilt. Additionally, we live by the calendar.
Most important thing motherhood has taught you…
To appreciate the little things. My girls notice everything and often we must stop whatever we are doing (whether we are late or not) to admire things. Sometimes you just have to stop, take a breath and look at the beautiful things around you.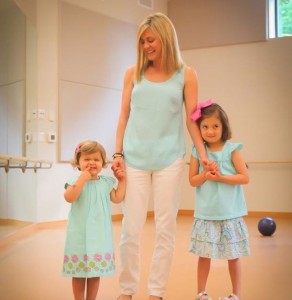 Describe your personal style.
Ah, I love jeans, comfy flats and soft t-shirts, but you usually find me in work-out clothes.
What is your philosophy regarding healthy eating/lifestyle?
Moderation! I do not deprive myself of my favorite comfort foods, but I don't over indulge. We eat organic fruits, vegetables and meats whenever possible. We stay away from dairy (except my husband) unless it's too good to pass up.
Obviously, I love exercise. In addition to teaching Barre3, I take it. Nothing feels as great as a sore tush. I love a great run, and I'm also exploring yoga these days.
What is a favorite place you have visited or trip you have taken?
Positano, Italy. The culture is so easy going, the scenery is breath-taking and the food is fresh, local and delicious.
What do you enjoy doing when you have down time? (Does that ever really happen?)
Sleep! Ha. Seriously, my favorite thing is travel.
What are your favorite Raleigh hotspots? 
My husband and I really enjoyed Death and Taxes. You'll find me at b.good Raleigh 3-5 times a week grabbing lunch. I love Glenwood Grill bar for dinner with my good friend. The bartender, Chad, is the best. Umstead Spa. Acupuncture at Bloom Integrative Health. Dr. Dishman is fabulous!
What are three of your "faves" right now? 
Harvest Kale Salad at b.good Raleigh-add chicken and avocado, Rag n Bone Boyfriend Jeans (thank you, Style Hawk) and playing "Spot it" with my kids before bed. Gracie is finally old enough to participate.
For an inside look at other inspirational moms, check out these previous Oh Momma Monday posts.