Last week I had the pleasure of returning to Tampa to visit again with our clients at the PDQ (People Dedicated to Quality) corporate office. As our local PDQ restaurants wrapped up their rounds of the company's annual employee shake competition, I was excited to get to Tampa to hear what "our stores" in North Carolina are up against in the way of competition from the other PDQ locations.  Check out the coverage our Clairemont team secured to learn more about PDQ's shake contest: N&O, Cary Magazine, WRAL Out and About, Fayetteville Observer and Durham Magazine.
Since we started working with PDQ earlier this year, there have been more shake breaks in our office than we probably want to admit. My point is, I can get distracted by one shake… like the current feature shake, Key Lime Pie. See, I just did it. I got distracted. So can you imagine how hard it is for me to focus when I'm thinking about 20+ shake flavors?!? Maybe that's why I didn't notice that the Le Meridien in Tampa only been open for few hours when I booked my reservation through the Starwood Preferred Guest website. That's right. a few hours.
There was something really fun about walking into a grand opening you weren't expecting. Especially since we plan so many grand openings for our clients, it was interesting to see it unfold from a guest perspective. I learned upon check-in that I was there on the hotel's second day, and while I had only booked one night (due to not yet knowing if the location was convenient to my meetings for the coming days) after seeing how beautiful this hotel was and receiving such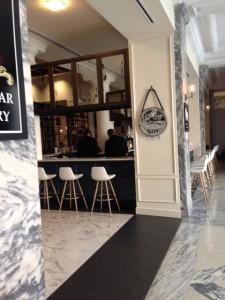 excellent client service, I extended my reservation. I'm so happy I did! Here are the stand-outs that will make Le Meridien my first choice anytime I'm in Tampa:
Friendly, helpful, passionate staff. WOW these people. Sure, it might be easy to be excited during the opening, but I suspect that when I visit again later this month and the months to follow, it will be the same experience. From the woman who so warmly greeted me at check-in (the only name I didn't get – next time!) to Jason Lutrell (recent PR grad – congrats!) answering my many questions and expertly fixing one tiny thing that wasn't 100 percent perfect to the beautiful and friendly Colleen at the bar, the service was excellent. At checkout, Evanlee said she liked my usage of the word stow instead of store. Before our conversation ended, I was off to a business extravaganza instead of a normal ole business meeting — what a fun start to my day! But I wasn't out the door until Julius made me the most delicious chocolate hazelnut latte and seemed truly disappointed when my answer to his, "And will I see you again tomorrow morning?" was no.
Community partnerships. My room key doubled as a ticket good for free admission to the Tampa Museum of Art. I loved learning that as I was checking into the hotel. I also noticed that photos of the nearby Tampa Theatre joined photography of other lovely architectural details from around the city to complete the room decor. This beautiful photography is by artist Amy Martz. I love an organization that supports its local arts scene.
Conveniences for the business traveler. I'm on the road a lot for work, and I'm always surprised when my hotel room doesn't have enough outlets or  outlets in the right places. I loved the bedside tables that had pop-up charging stations with a regular outlet and a USB outlet, in addition to the ones at the desk. My MacBook and iPhone stayed well charged my entire stay. I also loved the baskets in the closets that facilitated quick unpacking and organization while allowing me to being able to build a day's outfit at a glance instead of rummaging through drawers.
It is simply beautiful. I intentionally saved this for last because it is the most obvious cool factor if you have seen or read anything about the hotel. I had not, so it was a huge delight for me, a lover of historic buildings and the kind of architecture typically only found in old downtown areas. Le Meridien Tampa is housed in a former U.S. Federal Courthouse. It is absolutely stunning! Get a virtual tour through the hotel's Facebook page.
A chance meeting with the hotel's general manager, Brent Scarbro, was delightful. I commented that as a PR person, the opening seemed to be seamless and a huge success. I suspect Brent, a Starwood veteran, was being humble when he gave the credit to the building's history, his staff and the marketing efforts of the corporate Starwood team based on the resulting news coverage. Extra credit for the creative PR move to get the former judges who once worked in this building to be part of the VIP tours — awesome media angle! Check it out below, and join me in congratulating Brent and his team. And when you are in Tampa, now you know where to stay.
The Le Meridien also joins a growing pack of new hotels in downtown Tampa, not to mention several new or renovated hotels in the Westshore area geared to business travelers. The Epicurean hotel opened on South Howard Avenue last autumn, focused …
Tampa Bay Business Journal
 –
‎Jun 11, 2014‎
First looks at Tampa's Le Meridien Hotel, a federal courthouse reborn. of; 35. IMG 4699. The signage against blue downtown skies makes for some nice facade treatments. The hotel is slated to open June 16 with 130 guest rooms. Alexis Muellner/Tampa Bay …
Tampa Bay Business Journal
 –
‎Jun 12, 2014‎
The front steps of the former federal courthouse on Florida Avenue take visitors directly to Bizou Brasserie and Longitude Bar, the restaurant operations of upcoming Le Méridien hotel in downtown Tampa. The restaurant will play a key role in the success of …
Bay News 9
 –
‎Jun 11, 2014‎
From the outside, the old courthouse in downtown Tampa really doesn't look much different. But step inside and the 109-year-old building on North Florida Avenue has been transformed. The old courthouse is now the Le Meridien Hotel. "I couldn't be more …
MyFox Tampa Bay
 –
‎Jun 11, 2014‎
Tampa's long-abandoned old Federal Courthouse just finished quite the makeover. On Wednesday, developers of Le Meridien Tampa unveiled their new 130-room boutique hotel, which is housed inside the old Tampa landmark. MORE PHOTOS: Click here …