Since 2015 marks Clairemont's fifth anniversary, we're doing several lists of "fives." It's no lie that the Clairemont crew loves to travel; some favorite client trips include recent visits to Austin to Tampa. But since the life of a PR rep includes a fair number of days in office, I've curated a list of five tools that fuel my time while I'm at the Clairemont House.
1. Something Hot, Something Cold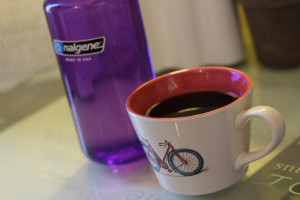 Who knew that dehydration negatively affects concentration? I stay armed with a Nalgene of chilled water and a steaming cup of java—sometimes Starbucks, sometimes whatever is left over from yesterday's coffee pot. (Don't judge.)

2. Vitamin C for the Brain
Stephen King captured it best: "If you don't have time to read, you don't have the time (or the tools) to write. Simple as that." Yes, PR professionals—and
communicators in general—should regularly invest time exploring the written word. However, for afternoon slumps or mental blocks, I'll reach for a book, a magazine, a Far Side comic—anything to introduce a fresh flow of ideas. Nationally renowned publications such as The Wall Street Journal command a distinctive cadence that I find helpful to jump-start my thoughts. I've perused everything from poetry (a friend of mine swears that poetry is like jumping jacks for the brain) to the back of a Cheerios box. And it works.

3. Evernote

While the market peddles a plethora of organizational software, I've found a friend in Evernote, Apple's note-taking application. Dubbed as "the workspace for your life's work," Evernote provides a user-friendly system for recording, curating, organizing and accessing data—from lists and tables to videos and sound bites. The functionality allows me to keep tabs on client projects with ease.
4. Kicks

These bad boys. Nope, they're not aesthetically appealing, and the idea of donning sneakers with my pencil skirts gives me flashbacks to that frightful skort-and-Keds trend a la 1993. But nonetheless, a brisk walk around the block does wonders to freshen my perspective, boost energy and revitalize creativity.
5. These People
It sounds like a given, but corporate America doesn't always afford us the luxury of a collaborative environment.
Struggling with a paragraph? Searching for a fresh idea? Need a hand assembling media kits? The shared passion and investment of my colleagues offer a great resource for encouragement and inspiration. And you know what? We have a lot more fun when do it together.
Pretty simple tools, right? What tips do you have for staying productive at the office?