A decade ago my fiancé and I packed our bags and headed up the coast (15 hours to be exact) to Cambridge, MA. We did all the things one does while living in New England: picked apples, played in leaves, visited the Cape, cheered for Tom Brady…
While my other half dived into his law school studies, I continued down my PR-focused career path. It was 2008, and I was coming out of my first job with global PR firm, FleishmanHillard. I had spent a year and a half working under a strong leader that taught me all the great basics of PR. My accounts included Thomasville Furniture, Krispy Kreme Doughnuts, Cheerwine and Newland Communities, and my work on these clients solidified my interest in consumer public relations. Finding a job in 2008 was extremely hard. The recession had taken hold, and I was coming from a small town to a big city. Through a networking contact, I was put in touch with a very small firm that had some very big projects. I worked on contract for six months and was able to call some of Boston's most popular companies my clients, including The Massachusetts Film Office, the Life is good Company and, my personal favorite, The Boston Athletic Association/Boston Marathon. 
From there, I transitioned to working with my sister. Having recently moved herself and her company to New York, she was serving small business clients in lifestyle and beauty. I learned to conduct desk-side meetings with editors at top magazines in NYC, advise on seasonal designs for jewelry and travel accessories and dabble in this new thing called…social media. That's right. We kicked off blogs, twitter and Facebook for each of our clients.

Once my husband finished law school, we decided to stay in the Boston area. I secured a job at a locally-focused mid-sized firm working on accounts including Mohegan Sun, The Preservation Society of Newport County, Simon Malls, The Boston Wine Expo, FELD Entertainment and a handful of local restaurants and bars. I did everything from media list building to new business pitches. I staffed events and directed celebrities where to stand and smile. I met professional players from every Boston team, and I was able to taste the food and test the scene at some of the city's newest restaurants.
I finished my New England "stint" at a fantastic national mid-sized firm. Their client roster was more tech-focused, but I felt the need for a change in my experience. The company offered an integrated approach for its clients, so I learned how to incorporate all aspects of communications including social, digital and marketing into my traditional public relations knowledge. This was extremely valuable as it's now becoming the standard for many agencies.
I've stood in Fenway while it was empty. I shook Edleman and Gronk's hands (Again, Pats fans? Anyone?). I watched the leaderboard for the Boston Marathon be changed manually in the pressroom of The Copley Hotel. I received exclusive tours through off-limit rooms in the Newport mansions. I.met.Martha.Stewart. But even more, I watched a city I loved grow while working among the smartest people in the biz.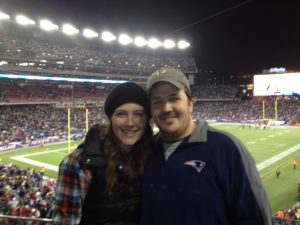 Our three-year plan turned into 10, and along with these career milestones, we mixed in amazing friends and two babies. But, coming out of our 11th winter (40 feet of snow if you average 3.5 feet each season!), we turned to each other and said: "OK. What's next?!" It wasn't really a hard question to answer, as we were both born and raised in the Tarheel State. So we packed up our things and, as the song goes, headed down south to the land of the pines.
When returning to NC, there was little doubt as to where I'd try to bring my experience. I was going to offer it to Dana, the woman who taught me most all of the skills that allowed me to gain it in the first place. The mentor, who gave me my first job, guided me through how to do it and then set me free when it was time. So, here I am, home again, home again. And I couldn't be more thrilled to be part of this team. I have no doubt they will teach me the ins and outs of this city that has grown two-fold since I drove away from it 10 years ago. I'm excited to make my new memories and reach my next round of milestones here at Clairemont Communications.
You can follow Kelli on Instagram @kbealefletcher