During our current work-from-home culture, online connections have become a vital lifeline for business growth — especially on platforms like LinkedIn. LinkedIn provides a hub for conversation, idea sharing and community in a time when in-person events are not always possible.
More than ever, now is the time for businesses to leverage their LinkedIn Company Pages to cultivate connections and foster business growth.
Why LinkedIn for Business Development?
The stats are quite compelling.
LinkedIn has 675 million users and gains two new members each second.
63 million users are in decision-making positions, and 90 million are senior-level influencers.
LinkedIn is the top channel B2B marketers use to distribute content.
LinkedIn has 17 million opinion leaders and 10 million C-level executives.
Users are seeking professional and industry connections. Professional content gets 15 times more impressions than job postings.
More than 50 percent of all social traffic to B2B websites and blogs comes from LinkedIn.
In short, LinkedIn is a hotbed for industry connections and partners, especially those in decision-making roles.
Naturally, your LinkedIn Company Page serves as a springboard to showcase what you do, who you do it for and the results you get. It makes sense that you should maximize this channel to grow and connect with your target audience.
Grow Your Audience
Beyond organic growth, you can leverage LinkedIn's features to cultivate and build your audience. First, invite your own connections to follow your LinkedIn company page through the Invite Connections feature. You can invite up to 50 people each day, an easy and effective way to remind your contacts where you work and what you do.
Invite your employee base to follow the page through company emails, direct messages and personal asks. Alert your employees to your most important posts through the Notify Employees of Updates functionality at least once a week. This increases engagement, triggers LinkedIn's content algorithm and in turn surfaces your post to the top of the newsfeed for further engagement.
Host Virtual Events
One of LinkedIn's newer features allows you to host virtual events, such as networking and sales/marketing seminars as well as webinars and e-trainings. Event organizers and attendees can send invitations to connections, and much like Facebook, you can monitor the details and converse on the event's newsfeed. Host trainings, free seminars and virtual coffee chats in lieu of those you might have done in person.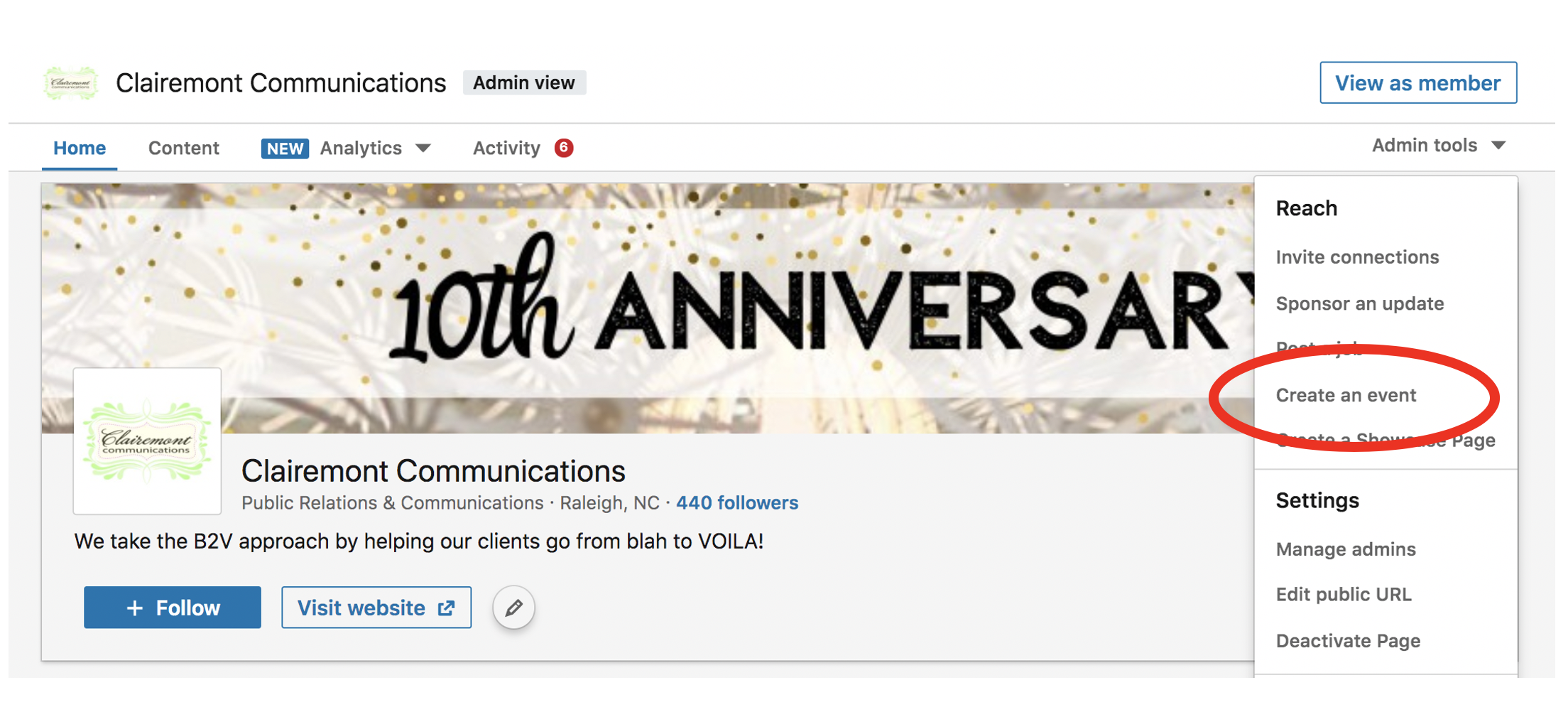 Create Connect-Worthy Content
Maximizing your page's newsfeed to foster connection requires a blend of traditional marketing knowledge and real-time flexibility.
1. Know Your Audience. Nothing has changed with this ground rule. To explore your page's follower demographics, leverage LinkedIn's Follower analytics tool that provides a breakdown by location, job function, seniority, industry and company size. Competitor audits can also provide helpful insights into content that has performed well for companies in a similar industry space.
2. Identity Your Audience's Top Needs. In 2020's shifting landscape, change seems to be the only constant. Use this time to provide support for your audience and offer generous, authentic solutions in any way you possibly can. Offer resources that are highly educational but low-pressure for the consumer, like free e-books, instructional videos and webinars. More than usual, prove your value and position yourself as a go-to resource, which can pay off later.
3. Pinpoint Content That Builds Your List. For higher engagement, aim to showcase visual media, such as photos and videos. According to LinkedIn itself, videos get five times more engagement, and native LinkedIn video entails an added bonus as they autoplay in members' newsfeeds.
Things to share? Company news, staff spotlights, behind-the-scenes peeks, how-to videos or product launches. You can also link to your e-books online and prompt followers to provide an email address prior to downloading, adding subscribers to your newsletter list. Check out additional tips to maximize LinkedIn's content algorithm.
4. Make It Manageable. Create a sustainable content calendar and utilize scheduling tools, such as Hootsuite, Sprout or Sprinklr. This will minimize the last-minute content crunch and posting fatigue. It also allows you to ensure a strong mix of high-performing content and media types.
5. Follow Up. If you see the same followers engaging with your posts, drop them a line to begin a personal conversation. Forge warmer connections by asking to learn more about what they do and what their most pressing needs are in the industry. This jumpstarts the conversation for future collaborations. In addition, you can create a rotating panel of brand ambassadors to discuss industry trends and foster relationships for future partnerships.
With its continuing evolution, LinkedIn is still leading the pack as one of our strongest virtual networking tools. Don't miss out on these gains!