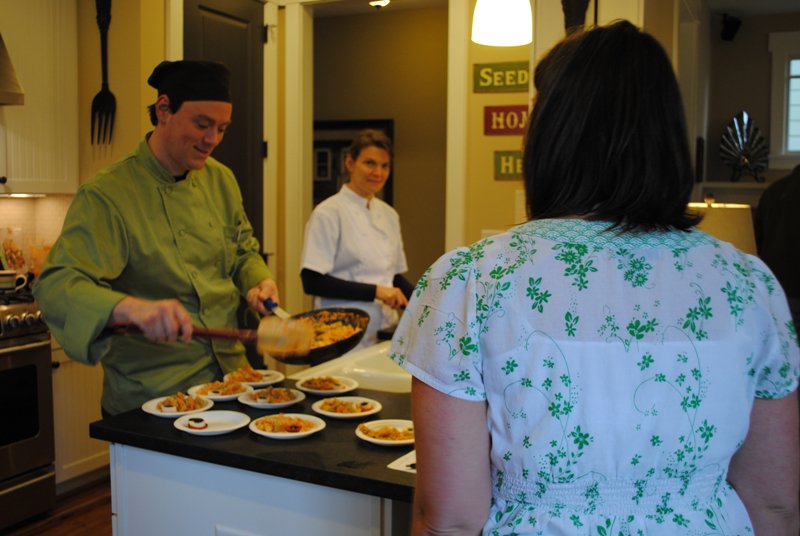 We recently read an article from the News & Observer about 9-year-old Martha Payne, who posted images of "uninspiring school meals" on her blog, Never Seconds. The blog has gotten more than 2 million hits and gained attention of school officials and cafeteria staff. The story has drawn national and international media coverage, and we can't help think of our client Briar Chapel and partner nonprofit, The Abundance Foundation, and their own stroke of genius: the Chatham County Chef Challenge.
In case you missed it, the Chef Challenge is an annual event that invites local celebrity chefs from well-known area restaurants (this year, we enjoyed working with the Fearrington House Restaurant, Crossroads at Carolina Inn and Central Carolina Community College) to create healthy and delicious school lunches. Each of the chef's dishes competed head to head with traditional school lunch favorites – think chicken nuggets, pizza and nachos. And believe it or not, the chef's dishes won! An overwhelming 85 percent of students agreed that the chef's culinary creations were much tastier than the same-old, less healthy options.
To give you an idea of a dish the kids love, take Chef Colin Bedford of the Fearrington for example. He cooked up a tasty chocolate cake that was actually good for you. Healthy chocolate cake!? While this may sound a little oxymoronic, trust us when we say that Chef Colin snuck in hearty ingredients like spinach and carrots – the kids had no idea!
The goal behind each of the chef's recipes was that cafeteria staff could easily duplicate it. The chefs held several training days through the school year to teaching team members how to use equipment found in their own kitchens, as well as locally grown ingredients, to recreate each of the dishes. Not only did the kids love the new menu items, but staff members also enjoyed learning something new!
And that's why we love the story about this 9-year-old making a stand for better school lunches. She's shedding light on a hot topic that our client Briar Chapel has also embraced. Together, parents and students can become more educated on making healthy school lunch choices, while keeping costs down!
In the meantime, we're busy gearing up for the Chef Challenge in 2013 and can't wait to see what the chefs will come up with this year!
P.S. Did you catch Tami Schwerin, executive director of the Abundance Foundation, and Kristy Yule, marketing director of Briar Chapel, on ABC 11? They give a big shout-out to the Chef Challenge!