How can a project about murals become a mass marketing campaign and help connect people? Ask Jedidiah Gant, a well-known North Carolinian, who acts as a mediator for businesses and artists in the local Raleigh area.
Gant partnered with JT Moore to help bring local businesses and artists together to make Raleigh a more beautiful place. This idea blossomed into a project that has captured wide-spread attention and has given the city of Raleigh a new meaning.
In July 2014, Gant and Moore created the "Raleigh Murals Project" with the objective of generating conversation and uniting the citizens of Raleigh. Gant had a fews visions in mind when he started this project; he wanted to increase public art in Raleigh while also adding vibrancy and color to the city. But as Gant and Moore strategized, they were faced with the challenge of building effective, ongoing publicity for both the business owners and the artists.
Videos
Gant and Moore's initial techniques were based on micro-media, such as videos, which ultimately expanded into full campaigns. For example, partnering artists created interactive murals, such as the one below, encouraging people to take pictures, post on social media and gain publicity for the murals.
They showcased multiple videos with the idea of making Raleigh colorful through its citizens and murals. When these videos went live, the traffic to the Raleigh Murals Project website and social media accounts skyrocketed.
Hashtags
Gant and Moore also added hashtags on the murals. Passerbys could quickly search the hashtag and view the exhibitions and contests related to that mural. This creates an interaction between the city and the citizens, aligning perfectly with Gant and Moore's core mission.
Cultural Movements
Gant tapped into trending topics and cultural movements. During the time of the presidential election, Gant noticed people were taking selfies of themselves with the "I Voted" sticker to post on social media. He quickly reimagined the "I Voted" sticker along with the hashtag #VoteRaleigh and incorporated it into a mural.
Not only did Gant create a new "sticker," he also filmed a short video to get people engaged with the trend, drumming up even more publicity through this digital campaign. This promo video resulted in several parades in downtown Raleigh, and the hashtag is slated be used for future elections.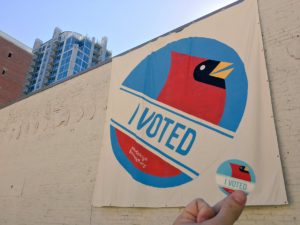 Such trends and ideas can snowball and reach bigger influencers and businesses. One campaign that was able to extend outside of the Raleigh city limits was the "Truth x Vans by Kevin Lyons" project. This campaign used Lyons' artistic skills to captivate Truth's anti-smoking message while promoting Vans' new pair of sneakers.
Murals Making Connections
Who knew murals could become a significant project for digital marketing? Pairing two seemingly disparate concepts can spur change and action. Just as Gant and Moore put their heads together, they helped bring businesses and artists together to create a colorful conversation for the citizens of Raleigh.
Check out other ways to create collaborations and boost your marketing!
Written by Binh Nguyen, rising senior at Auburn University.