I had the opportunity to attend a luncheon hosted by the Raleigh Public Relations Society at the end of June. Mary Alice Holley, communications and marketing director, Conservation Trust for North Carolina (CTNC), spoke on strategies she used to build relationships and awareness. I had a hard time thinking that strategies for land and water conservation also apply to outside fields, but there's actually substantial overlap.
The biggest takeaway? (I mean, besides that 18 Seaboard, the venue for the June meeting, has show-stopping crème brûlée.) If you think outside the box and use creative PR, it could make all the difference.
Think of a New Audience
One of the first things anyone in PR will do when developing a strategy is to determine the target audience. Holley recommends thinking of a new or unconventional audience. For the CTNC this meant not only targeting politicians and land owners but also "people who go to community gardens and walk trails."
Anticipate Obstacles
Holley explained that, upon receiving her director position, many of the existing staff believed that developing communications strategies on the grassroots level was a waste of time. They wanted to go straight to the politicians, but Holley knew that bringing awareness would help the CTNC gain momentum. It's a good thing she kept moving forward with her ideas! Since Holley became director, the CTNC has secured a record number of email subscribers, followers and donations. 
Activate the Plan
Holley stresses the importance exploring different messages and channels beyond the tried-and-true to reach your audience. For the CTNC Holley has implemented a strategy that involves letters to the editor, op-eds, field trips and traditional media. The CTNC uses action alerts that pique audience interest, increase awareness of the organization and gather emails.
Make Your Efforts Last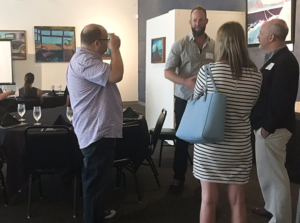 It's vital to maintain the interest of your current supporters and not only focus on the attention of fresh eyes or ears. Online content like a website or blog, fact sheets, media relations and events have all been used by the CTNC to keep interest and further inform its audiences. Holley also highly recommends taking the time to thank those that have supported you. The CTNC has officially thanked politicians that have voted for land and water conservation legislation.  Not only does this make supporters and advocates feel valued but it also helps to nurture a champion for your cause or organization.
What are some varied communication strategies you've seen or used? Here at Clairemont, we're always conjuring up creative ideas for our clients. Drop us a line if you need some pizazz!
Written by Yasmine Evans, a senior at NC State University.