McGavock Edwards, strategic communications director at Eckel & Vaughan, is a seasoned PR practitioner with years of experience juggling work, family and travel schedules. I had the pleasure of working with her for more than a decade and was able to see firsthand how well she balanced a demanding career and family time. I recently caught up with McGavock and she shared  a few of her secrets to success, as well as some of her favorite Raleigh hotspots.
What is your occupation?
Strategic communications director at Eckel & Vaughan, a strategic communications agency located in Raleigh, NC.
What about the field of PR excites you the most?
It's funny, really. I'm a gal who loves structure, routine and order. But, my favorite thing about PR? A day is never the same. Whether it's learning about a new challenge begging for effective communication principles, studying the ever-changing communication landscape, or the questions that arise when a field changes so often, the ebb and flow of PR thrills me. Everyday. All day.
How has your career/professional life changed since becoming a mom?
When I first became a working mom, it was tough. I yearned for that perfect work-life balance. I always felt like I was cheating someone. Work suffered if I was focused on my child. And, I felt guilty being at work instead of at home. But, now that I have a few years under my belt, wisdom (and peace) have settled in. There is no such thing as work-life balance—at least not with a 50-50- split. Life is messy. Being a working mom is messy. It's a struggle, but it's also wonderful to be able to feel fulfilled in all aspects of my life. The key for me? Be as present and focused on the person or task in front of me for as long as it takes, and let any guilt roll off my back. Everyone and everything gets the best from me. Well, for the most part.
Any tips for juggling work and motherhood?
Don't let guilt consume you; it's a waste of energy. Find an employer who appreciates the value you bring, not only the hours you put in. Keep to-do lists and check them often. And, keep your calendar up-to-date and with you at all times.

Most important thing motherhood has taught you…
Focus on the moment you're in. Once you have a child, life does truly fly by.
What do you enjoy doing when you have down time?
I've always liked to read, but lately I'm lucky to get through one Vanity Fair article, much less a whole book. Recently, I've indulged in the adult coloring fad. I know – so "basic" of me. But, I've found that after day of words, colors soothe my soul.
What are your favorite Raleigh hotspots?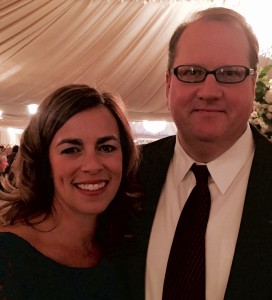 For Your Convenience is a fave to stop by during lunch when I need a gift or a treat for myself. I love Salt + Lime for dinner with the girls. Uniquities in North Hills is my go-to for a cute new top. Millbrook Tennis Center is where I take my aggression out (on a little yellow ball).

What are three of your "faves" right now?
1) The Blackberry Smash from Salt + Lime in North Raleigh is delish. It's not on the menu anymore, so it requires the right bartender and some sweet talk.
2) My favorite TV show is Scandal. It's dramatic, current and smart.
3) Postmates and Amazon Prime save so much time!
To read about other inspiring mommas like McGavock, check out our previous Oh Momma Monday posts.