Marketing consultant, blogger, foodie, mother of two, advocate for children's issues and modern day mixologist – Ilina Ewen is a true renaissance woman. She takes a no nonsense approach to juggling work and motherhood and is an inspiration to moms trying to balance it all and still find time to stand up for issues we feel passionate about. We recently had the chance to catch up with Ilina, and she shared with us a few of her secrets to success.
What is your occupation?
Branding and marketing consultant and freelance writer.
What inspired you to start blogging?
I had written for the N&O's style section for a short-term, and when that ended I still felt a hankering to write. I wanted to write something other than business and client projects. I felt a tug to be more creative and authentic. A friend had started a blog, so I figured, if he can do it, I can too! And so Dirt & Noise was born.
How has your career/professional life changed since becoming a mom?
I joke that I half-ass everything now. My priorities did a 180 when I became a mother. I quit my agency life to start a consulting business so I could spend more time with my son. I didn't want to be beholden to a company in a demanding industry. I needed flexibility and changed my life to have it. Some see it as a sacrifice; I see it as a luxury. I don't take my life for granted for a moment.
Any tips for juggling work and motherhood?
Don't lower your standards. I'm not the kind of person who can function in chaos. I like structure and a tidy house. For a short while, I tried to lower my standards but I found I couldn't be productive in a mess. Kids rise to the bar you set, so if that means they do chores to help out, encourage them. Everyone in the family plays a role in running the household. I also say no a lot. Whether business or personal, I commit to things out of interest, not guilt. My sons, ages 12 and 10, are likely the least scheduled kids in America. Life is richer for us with few activities. Family dinner is a must. We don't compromise on that, even if it's take-out or grilled cheese sandwiches and a salad.
Most important thing motherhood has taught you…
Time is paradoxically both a bandit and a gift. Each stage is trying and amazing and all too fast.
Where do you find inspiration for your blog posts? What makes a good blog post in your mind?
Everything is inspiration. I follow local and national politics, so those issues, along with what's happening in my community, spark loads of blog posts. I am a strong advocate for children's issues – hunger, elimination of child abuse, public education and global vaccines. I started a non-profit at my son's school and support Backpack Buddies at my other son's middle school, so the stories that I write often advocate for issues I use my voice for. I also serve on the board of SAFEchild and am a Champion Leader for the UN Foundation's Shot@Life program. I believe in using your voice and being authentic, so to me, a good blog post is genuine where you can hear the author's voice ring through, be it funny, poignant, irreverent or fired up.
What are your favorite Raleigh hotspots?
We are a food loving family. Some of our favorites places to eat are Bida Manda, Stanbury, Cantina 18, Pizzeria Toro, and Mecca for breakfast (a Saturday morning tradition).
I love First Fridays downtown. VAE and ArtSpace are favorites. The boys and I frequent CAM, Jose & Sons, and Videri (frozen hot chocolate!) for part of our summer adventures (a blog series I've written for a few years to list day trip activities to do with the kids).
I think bargain shopping is a sport. I love consignment shopping and used to get great deals at Passage Consignment until it closed. I hit the sale racks at J. Crew, Anthropologie and Bevello. As a family we head to the flea market. It's a great place to find quirky items and furniture. We like to decorate our home with items that have a story or a history.
I'd like to say the Alexander Family YMCA is a hotspot but I'd be lying. I do love Stacey's toning class but can't make it there regularly.
What are three of your "faves" right now?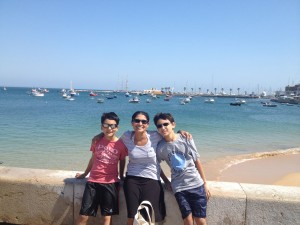 Travel tops my list. We just returned from Charleston and have more trips planned this year to Orlando, Wisconsin and Mackinac Island. We spent a month last year traveling through India and Portugal. Our hope is to go abroad every other year. Next year's trip might be Denmark…we feel the lure of LEGO.
I'm a Netflix junkie. I just finished binge watching Gilmore Girls. I unabashedly love it. I can't wait for Unbreakable Kimmy Schmidt to return. My husband and I watch House of Cards and loved Bloodline. I'm also a voracious reader. Right now I'm loving Haven Kimmel, Jhumpa Lahiri, and of course, Mindy Kaling. And…the book The Warmth of Other Suns is a must read.
Once warm weather hits I'm obsessed with porch drinks on our screen porch, my favorite spot in our house. I'm always testing new concoctions but find myself coming back to a Pimms Cup with mint and cucumber.
I'm also obsessed with finding the perfect pencil skirt, white button down and stylish yet comfortable shoes. I believe style and comfort are not mutually exclusive, but the fashion world doesn't seem to agree!
If your kids could write a post for your blog, what would they say?
They would probably write about one of the many volunteer activities we do (or as they would say…activities I make them do) or they would write a food/restaurant review.