The dream job
Bakery owner. First-grade teacher. Founder of a dog and cat rescue. Novelist. If you asked me today what my dream job is, I would probably say one of these or something similar to it — without much thought or consideration mostly because these jobs are simple to define and palatable. Additionally, each job caters to big loves of mine: desserts, kids, animals and writing. However, it wouldn't be entirely true of me to say that my dream job was a bakery owner or novelist.
Within a few years of any one of these jobs I would be bored. That's not much of a dream job, is it?
How I found it
Early in my sophomore year at the University of North Carolina at Chapel Hill, I started to have doubts about the degree in global studies I was pursuing. It was too similar to my political science major, and I felt limited both creatively and in the opportunities available to me. I decided to take two classes in the School of Media and Journalism just to see if I would like the material — and I loved it. I was immediately captivated with public relations, in part because the classes and faculty offered an environment where I felt valued and truly learned, but even more so because I finally realized that my true dream job is in communications. In May of 2019, I'll graduate with a bachelor's degree in media and journalism and a bachelor's degree in political science.
As a public relations practitioner I could work on a bakery's grand opening or do media relations for an elementary school getting state-of-the-art technology. I could work on the website and newsletter for an animal shelter or arrange readings for a novelist at smaller, intimate bookstores to debut their books. Essentially, in public relations, I would have the opportunity to put on a new hat, work with new people and tackle new problems every day.
How I'll get it
Despite spending much of the past few years in a classroom or library, I've always had a fascination with life and an eagerness to see as much of the world and meet as many people as possible. This has fueled my love of traveling — most recently to London — and my love of books that share exciting stories and ideas. It also makes coming home to my family and friends in the western mountains of North Carolina that much sweeter.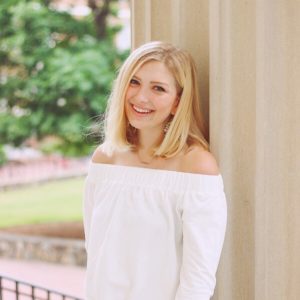 I hope to bring that fascination and eagerness to Clairemont, putting life and energy into each of my projects. I know that my time at Clairemont will be full of learning opportunities, new people and new ideas — just some more of my favorite things. I am excited and humbled to be working at an agency that can give detailed care to its clients, and I can't wait to see what we accomplish at Clairemont in the months ahead. I know this internship will better prepare me for my dream job in public relations.
Written by Clairemont intern Kaitlyn Karcher, a senior at UNC.