At Clairemont, we understand the importance of securing strategic media coverage for clients. But for one of our clients, the North Carolina Association of Fire Chiefs (NCAFC), sharing its message could be a matter of life and death.
The Need for NC Volunteer Firefighters
Currently, Clairemont is partnering with The Felice Agency and the NCAFC for an intensive two-year campaign to recruit volunteer firefighters across 15 of the most at-risk counties in the state. In North Carolina, nearly 70 percent of all firefighters work on a volunteer basis. The number of volunteers is falling rapidly each year, and these 15 counties are reaching a critically low level of volunteers.
As a part of the campaign to boost volunteer interest and retention, Clairemont gets to share the stories of some of these brave heroes. The firefighters we work with are always incredible, but one of the volunteer's stories is especially remarkable.
Seventeen-year-old Jade Gatling of Gaston, North Carolina was the first Black female cadet to graduate from the junior firefighter program at the Gaston Volunteer Fire Department. Jade has spent her last year of school scaling ladders, braving car fires and saving lives, all while taking a full high school course load.
Coverage That Matters
Through a targeted, individualized pitch strategy, Clairemont secured wide-spread coverage of Jade's story in several key news outlets.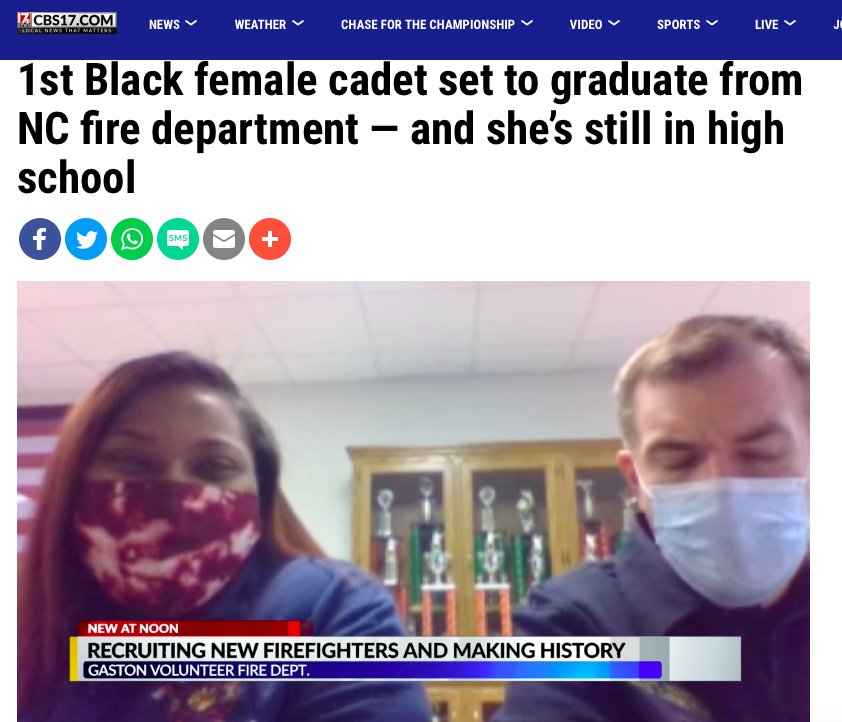 Clairemont's work with the NCAFC and the International Association of Fire Chiefs (IAFC) has earned both an Award of Excellence and Best in Category from the North Carolina Chapter of Public Relations Society of America.
At Clairemont, we do work that matters. Through our partnership with the NCAFC and The Felice Agency, we have already seen a boost in volunteer firefighters across North Carolina as a result of this campaign. If you're interested in serving your community as a volunteer firefighter, click here to learn more.
And that's not all! Check out other great coverage we've secured for the NCAFC!
By Clairemont intern Anne Claire Foreman, a senior at UNC-Chapel Hill.