"Our new logo. Our new label. Our new pink," read the caption of a recent Kate Spade Instagram post alongside a photo of its new tag color. One spade motif at a time, Kate Spade dropped its spring 2019 line — and longtime fans sprang up with vocal feedback as they noticed the striking changes. But Kate Spade became a shining example of a brand that knew its audience and had a plan in place to ensure a successful debut.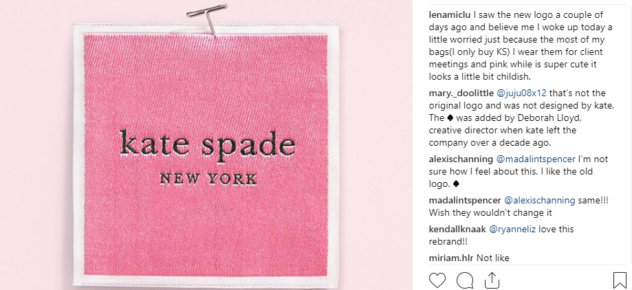 As public relations practitioners, we know that a crisis with a strategic, thorough plan is always manageable. But in the age of social media, customers expect businesses to respond online with unprecedented speed. Kate Spade led a master class in customer advocacy, as the team anticipated questions its audience would ask ahead of time and was therefore adequately prepared with responses for each during the roll out of the campaign. Comment after comment, the brand tackled each fan's issue with ease, consistency and aplomb on social media.
Here are some examples:
1. Fan: @rancatburtanog wrote, "I feel like 're-imagined' is a word for 'we're phasing it out.' I love KS and I have loved it for a long time but please do not turn this brand into a bunch of 'signature' collections like Coach and MK. They are everywhere and it makes the handbags look cheap and ordinary."
Kate Spade: "@rancatburtanog we promise we are not phasing out the spade. You'll see it featured in lots of products throughout the collection ♠️. We are excited to show you!"
Lo and behold, not long after, Kate Spade posted a few Instagram images featuring the use of the spade, such as the following:
2. Fan: @breeflan wrote, "I liked the green. It was more unique. Everyone associates pink with being girly, I'm sad to see this change. I really valued the fact that everything wasn't pink pink pink. That's Victoria's Secret."
Kate Spade: In a follow-up post, the brand captioned, "Our new gift boxes. They'll have our new tissue paper inside, too. Each box has a different combination of our brand colors—the ones we call pink kiss (bright pink) to clover (dark green), cherry blossom (light pink) to honey bee (yellow). 5 days until we share all the newness that's coming on January 28th. We can't wait."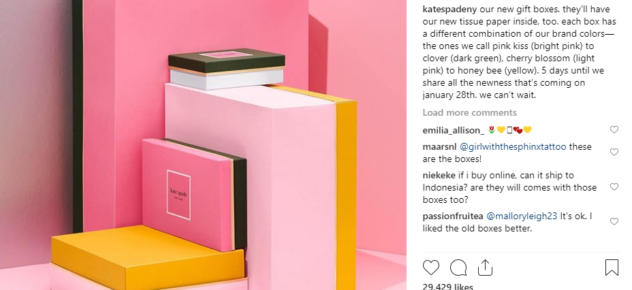 3. Fan:@denise_caskey wrote, "Where is Kate's trademark♠️? "
Kate Spade: "@denise_caskey hi! you'll see the spade featured throughout the collection in new and exciting ways. we can't wait to show you!"
There is a stronger feeling of loyalty that grows when a brand responds to you directly as an individual in a public forum. Remember, your brand is not your logo, colors or name. As author Maya Angelou said, "People will forget what you said, people will forget what you did, but people will never forget how you made them feel." Your brand is simply how you make people feel, which in turn generates how they feel about your brand.
Ultimately, being handed the reins of a big lifestyle brand like Kate Spade is a tremendous responsibility. But will the brand's loyal fan base follow the newly appointed creative director Nicola Glass as she continues to push forward with Kate Spade? No doubt her goal is to bring new customers into the fold while still keeping those die-hard Kate Spade fans happy. It may be a high-wire balancing act, but Glass is acing it so far.
Brand revolutions can take many forms. For tips on approaching your own rebranding efforts, check out our Miss America: Brand Revolution? blog!
Written by Clairemont Intern Ru Wolle, a senior at NCSU.
Photos from @katespadeny [Instagram]