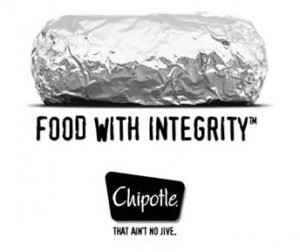 When it's "a foil-wrapped, hand-crafted, local farm supporting, food culture changing cylinder of deliciousness," of course! While I prefer Chipotle's burrito bowl instead, this creative spin on the traditional form makes me re-think my order. I mean, come on, who can pass up a cylinder of deliciousness?
What's so smart about this copy is that it captures the essence of the Chipotle brand by delivering the company's unique selling propositions in one very hip, clever, comprehensive package. It not only speaks directly to our growling tummies (which is what matters most in the restaurant business), but it goes one step further to touch on the company's values that are similar to those of its socially and environmentally conscious following.
Chipotle positions its product as "food with integrity," claiming to use ingredients that are sustainably grown and naturally raised with respect for the animals, the land, and the farmers who produce the food. They support local family farmers, source organic and local produce whenever possible, and serve up meat from animals raised without the use of antibiotics or added hormones.
Yes, I like Chipotle's copy and creative packaging. Almost as much as I like its hot salsa.