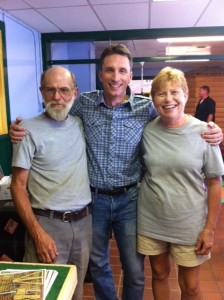 I have had the extreme pleasure of being part of one of msnbc tv's business makeovers for the show "Your Business." The segment will air Sunday at 7:30 a.m. EDT, and I can't wait for the owners of Asheville Playgrounds (formerly known as Just for Fun Playgrounds) to get to share their story nationally!
Evelyn Anderson and Jerry Hayek are  like most business owners I know. They are passionate about their company. They love working directly with their customers (and their customers love them). They are willing to do whatever it takes to make the business thrive. And, they are wearing many, many hats to be the owners, the bookkeeper, the sales team, the marketing team and much more.
I met Evelyn and Jerry when I walked into their showroom on the first day of shooting for the msnbc makeover. (You might see our actual introduction during the show.) I instantly fell in love with them, and as I continued to learn more about their story and witnessed how sincere and hardworking they are, my admiration grew. I'm resisting the urge to tell you everything about them, but instead I'll say… WATCH THE SHOW! I promise you will be inspired.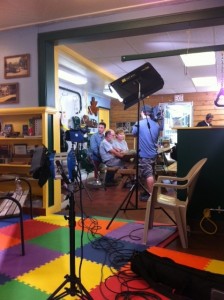 Next week after the show has aired, I'll blog more about the role Clairemont played in the Asheville Playgrounds makeover. For now, I'll leave you with the news release below that was issued this morning. Thanks Evelyn and Jerry for allowing me to be part of your journey, and thanks to Mike Michalowicz for getting me involved in this amazing project!
Asheville Playgrounds and Clairemont Communications to Appear on msnbc tv's "Your Business" Sunday
Two North Carolina Companies to be Featured on National Business Show This Weekend
 Asheville, N.C. – August 26, 2011 – Asheville Playgrounds, formerly Just for Fun Playgrounds, and Clairemont Communications, a public relations and marketing communications  firm in Raleigh, will be featured Sunday, August 28 on msnbc tv's "Your Business," airing at 7:30 a.m. EDT.
Asheville Playgrounds was selected by msnbc tv producers to be featured on a show that brings together experts in a variety of areas to provide a business makeover. A commercial and residential designer and manufacturer of custom wood playground structures, tree houses and gazebos, Asheville Playgrounds owners, Evelyn Anderson and Jerry Hajek, submitted a question to the show about how to capture return business. The inquiry piqued the interest of msnbc tv producers who thought the couple's company was an ideal and deserving recipient of a business makeover.
The business experts selected by msnbc tv producers included Dana Hughens, founder and chief executive officer of Clairemont Communications. Hughens joined Mike Michalowicz, nationally recognized business owner, advisor and author of The Toilet Paper Entrepreneur, along with other experts in their respective fields to learn more about the company's operations and goals to identify areas of improvement and growth strategies. Sunday's episode of "Your Business" will reveal their resulting recommendations and showcase the changes Asheville Playgrounds has undergone in the past few weeks.
"Being part of msnbc tv's business makeover team for Asheville Playgrounds has been a rewarding process," said Hughens. "As the show will demonstrate, Evelyn and Jerry are smart business owners who, like many people running a company, have to juggle multiple responsibilities. With the help of some specific expertise, they are already receiving increased exposure and improved operational efficiencies."
Clairemont Communications devises communications strategies that utilize both traditional and emerging forms of communications to help clients achieve business objectives and improve the bottom line by influencing purchases, persuading stakeholders and influencers, and defining brands. Clarity in vision + the promise of monumental results = Clairemont Communications.
–30–