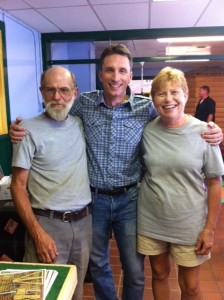 I have had the extreme pleasure of being part of one of msnbc tv's business makeovers for the show "Your Business." The segment will air Sunday at 7:30 a.m. EDT, and I can't wait for the owners of Asheville Playgrounds (formerly known as Just for Fun Playgrounds) to get to share their story nationally!
Evelyn Anderson and Jerry Hayek are  like most business owners I know. They are passionate about their company. They love working directly with their customers (and their customers love them). They are willing to do whatever it takes to make the business thrive. And, they are wearing many, many hats to be the owners, the bookkeeper, the sales team, the marketing team and much more.
I met Evelyn and Jerry when I walked into their showroom on the first day of shooting for the msnbc makeover. (You might see our actual introduction during the show.) I instantly fell in love with them, and as I continued to learn more about their story and witnessed how sincere and hardworking they are, my admiration grew. I'm resisting the urge to tell you everything about them, but instead I'll say… WATCH THE SHOW! I promise you will be inspired.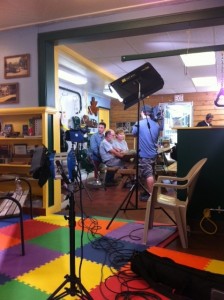 Next week after the show has aired, I'll blog more about the role Clairemont played in the Asheville Playgrounds makeover. For now, I'll leave you with the news release below that was issued this morning. Thanks Evelyn and Jerry for allowing me to be part of your journey, and thanks to Mike Michalowicz for getting me involved in this amazing project!
Asheville Playgrounds and Clairemont Communications to Appear on msnbc tv's "Your Business" Sunday
Two North Carolina Companies to be Featured on National Business Show This Weekend
 Asheville, N.C. – August 26, 2011 – Asheville Playgrounds, formerly Just for Fun Playgrounds, and Clairemont Communications, a public relations and marketing communications  firm in Raleigh, will be featured Sunday, August 28 on msnbc tv's "Your Business," airing at 7:30 a.m. EDT.