It's a special week this week. Each day we're going to fill you in on ways you can get involved in Briar Chapel's Best Buddy Contest and win a brand spanking new Buddy Scooter. In case you haven't heard, the Best Buddy Contest is being hosted by our client Briar Chapel, the Triangle's largest green community. The idea is to reward fans for their engagement across a variety of social media platforms, including Facebook, Pinterest, Twitter, Foursquare and YouTube (to mention a few). Not only do we think this is smart – it's also a fun way to say thank-you to the community's most loyal fans.  We're absolutely honored to work with our client on this project!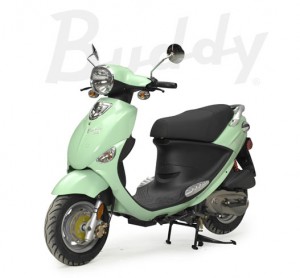 Even though the Best Buddy Contest has been going on for a couple of weeks now, it's definitely not too late to join in on the fun. Here are a few easy (and did we mention fun?) ways to get points this week and get into the running to win a Buddy Scooter:
5 pts: "Like" the Briar Chapel community page. Easy enough, right?
5 pts: Link a video to the wall. Think educational videos on things like composting, community gardens, solar panels, etc. There are tons on YouTube!
4 pts: Upload a photo to the wall. Looking for inspiration? We love the community art at Briar Chapel!
3 pts: Share a link on the wall. Read anything interesting about green living? Post a link!
2 pts: Share some love on the Briar Chapel wall. Feel free to share a few words of advice or something you like about the community. No photos or links necessary.
1 pt: Like a post on the Briar Chapel wall.
1 pt: Like The Abundance Foundation page.
1 pt: Like the Triangle Off-Road Cyclist (TORC) page.
Want to go the extra mile? Here are a few ways to get even more points:
10 pts: Post a photo of yourself in one of Briar Chapel's model homes. Be sure to share your favorite feature about the home, as well as mention the builder.
30 pts: Show some fanfare! Fanfare is anything a participant does that is deemed "fanfare worthy" by the folks at Briar Chapel. What are some ways you can get creative on Facebook?
OK, everyone! It's time to get on Facebook and win a Buddy Scooter!