Briar Chapel is one of the largest master-planned communities in Raleigh-Durham and part of Newland Communities, the country's most prominent privately held residential real estate developer. Hosted on-site at Briar Chapel, the annual Pepper Festival features local culture, food, music and art, while inviting the community to support North Carolina agriculture. With more than 50 participating chefs, the festival has grown to be one of the largest chef competition in the state. As the Briar Chapel marketing team planned for the 9th Annual Pepper Festival, greater exposure and higher attendance were the primary goals.
Strategy

Clairemont established an event strategy targeting two main audiences: local media and influencers to drive exposure and Triangle residents with interests in new homes, food, fashion and sustainable agriculture.
Execution

Since research revealed that prospects valued a sense of community, Clairemont highlighted how the festival benefits local farmers, celebrates local culture and provides family activities – like a kid chef competition – in marketing messaging, media pitches and event activities, creating a draw for festivalgoers.
Inaugural Spicy Kid Chef Competition: The 9th Annual Pepper Festival paired seven of the Triangle's top chefs with elementary-aged students, challenging the "peppery pairs" to craft their most creative pepper-themed dish. Students and chefs kicked off the contest with a meet-and-greet hosted at a local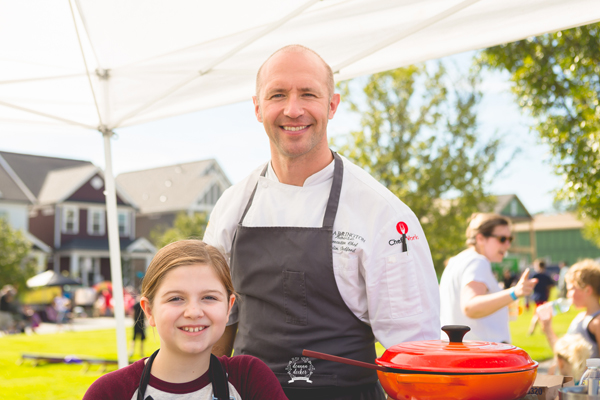 restaurant to tour the kitchen, learn cooking skills and brainstorm recipes with their chefs. They even received personalized aprons as "Tiny Top Chefs!" Highlighted at the festival, the kids debuted their recipes to a panel of four prominent media judges (and the judges' children). The competition resulted in radio, print and online coverage along with a pending regional magazine feature article.
"How Spicy is Your Personality?" Quiz: To boost online visibility and social sharing, Clairemont created an interactive social media quiz peppered with twists of wit and plays on words. Seven short questions posed fun, unexpected queries, like "What's your getaway vehicle?" and "Pick Your Poison" – a
question followed by four beverage choices ranging from wine to milk. The results stretched beyond "mild, medium or hot." Clairemont crafted five positive personality types that featured popular phrases or song lyrics related to heat, fire and smoke. Are you a Mild Child, a Sweet Heat, Spiced Just Right, a Firecracker or a Flamethrower? Participants could then enter for a chance to win Pepper Festival tickets, share their results on Facebook and encourage friends to take the quiz or buy tickets. With a goal of 100 quiz entries, we secured approximately 130 quiz entries and 1,700 views.
"Hot" Glam Fashion Show: In order to appeal to a new audience and media, Clairemont rolled out the pepper-red
fashion carpet; we challenged local designers to create pepper-themed couture out of eco-friendly materials, tapping into the festival's themes of agriculture, sustainability, arts and local culture. The event secured attendance and coverage from fashion media – a first for the festival.
Judging Panels and Spicy Media Pitches: Clairemont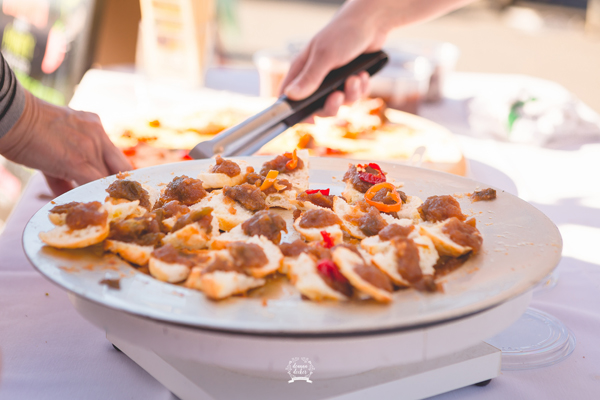 invited key members of the media to serve as food and beer judges, targeting highly visible reporters who personally enjoy spicy dishes and craft brews. We secured attendance from busy and hard-to-reach targets by assembling a panel of prestigious reporters from print, radio, blog and TV outlets that correlated to resulting media coverage. Creative and individualized pitches were used to pique the interest of target influencers.
Results
Turning up the heat on the Pepper Festival, Clairemont exceeded objectives with the following results:
Secured 19 news stories, posts and magazine articles across local and regional outlets.
Bolstered online visibility with third-party social mentions from bloggers and reporters to almost 75,000 combined followers on Twitter alone.
Boosted ticket sales more than 10 percent.
Garnered a record attendance of 2,200 people.
The work Clairemont Communications conducted in partnership with Briar Chapel earned Best in Category for Events and Observances and an Award of Excellence for Events and Observances from the North Carolina Public Relations Society of America. It also received a Gold Award in Special Events from the Raleigh Public Relations Society. We are proud that this campaign represents two of the 190 awards we've received since starting Clairemont in 2010.
To read more about the work we do with clients, please visit the case study section of our blog.
Images courtesy of Briar Chapel.