Whaddaya Think Wednesday is a regular Q&A feature on the Clairemont blog. We ask people "whaddaya think?" on a variety of topics. This week, we share thoughts from fashion industry leader, Nancy Webster.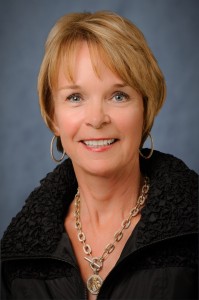 Q: Nancy, I know that you really have two roles right now – leading your own company and working with North Carolina State University. Can you tell us a bit about each?
I joined NCSU College of Textiles as practicum professor this fall to co-teach the new Fashion and Textile Design program (FTD 104) which is a studio class that focuses upon the fundamentals of design including color, pattern and form.  We have 30 students in our inaugural class who will obtain a BS in Fashion and Textile Design upon graduation.  Here I am able to teach, guide and mentor the students with industry experience which incorporates the real world application of design and how the design discipline is incorporated into business decisions as well as business success.  In our global society, we all know that creativity and innovation are the differentiators of successful companies.  It's all about who is quick to ideate and then market their creations.
The clients and projects of my consulting company, Nancy Webster LLC, allow me to remain active in the retail and manufacturing environments in design leadership.  I work closely with retailers such as Macy's and Pier 1 recommending color palettes and design direction for their indoor and outdoor home collections.  International travel to trade shows such as Heimtextil and Maison et Objet provides a plethora of ideas and inspiration allowing a constant flow of new approaches to these product categories.  Much time is spent in consumer research, analyzing and understanding the present business climate of each retailer in order to customize their assortments to deliver profitability goals and margins.  Thus, my role integrates design, merchandising, marketing, global supply chain and management – an all-encompassing perspective which results from 33+ years of corporate experience and exposure.
Continual involvement with industry and retail allows my contribution to academia to be current and relevant based upon industry and retail needs.  My goal is to mentor and prepare design students for the demands and expectations of their potential employers.  They should be prepared to contribute immediately upon securing their first career position.
Q: As an NCSU College of Textiles alum and former executive with widely popular and recognizable brands (including Target and Thomasville), what's it like to return campus and work with the next generation of leaders in the fashion industry?
Exhilarating!  I love working with the students and observing their progress as creators.  Some are great at color, others have an innate ability for two dimensional design while others quickly master the art of three dimensional form.  In each case, my challenge is to meet the student on their level, evaluate their strengths as well as their opportunities and then with positive support, guide their maturation in the creative discipline through exposure and experiential activities.
In the corporate world, creativity reigns supreme.  Throughout my career, I have contributed to the development of many products and brands…now, I have the opportunity to assist with the development of creative talent which will likewise impact many products and many brands!
Q: You are leading the charge to bring a world-class fashion event to Raleigh in April. What is that about and why is NCSU an appropriate host for the event?
Fashion Week 2012, scheduled for April 11 – 13, promises to exalt creativity and innovation with a global perspective unlike anything NCSU has ever sponsored.  The three day show will educate and showcase professional and student innovation through fashion shows with global participation from Donghua University, Hong Kong Polytecnic University, London College of Fashion and the Fashion Institute of Technology, educational forums focused upon innovation and creativity, exhibitions featuring students design work in wovens, knits, prints and non-wovens and a marketplace of artistic professional talent.  This week is not to be missed as many high profile professionals will be in attendance – company presidents, well-renowned fashion and home designers, international academic leaders and government officials.
NCSU is the perfect host for this Fashion Week event with Raleigh recognized for innovation and creativity leadership as well as our proximity to the Research Triangle Park.  The College of Textiles is also the perfect College to champion this endeavor due to their strong leadership role in blending the art and science disciplines and our close industry ties in the areas of fashion and textile expertise.