Want to know the latest trends? Tune in on Trends Tuesday!
This is our fourth post in a series that is inspired by the InStyle article 5 Ways to Wake Up Your Work Wardrobe and explores how each trend is influencing fashion and furniture. Today's post is about prints! Here's InStyle's advice: Mix in Prints — The key to making patterns work at work? Stick with muted colors (such as black, gray, brown and beige), and classic motifs (including plaid, paisley, houndstooth, cheetah and leopard).
Does this tip surprise us? Not at all! In fact, we've recently blogged about prints prior to reading the InStyle article…
In a Copy Cat posted here on the Clairemont blog, we gave a nod (and a meow) to animal prints, as well as excellent copy written about those prints. Read more in Talbots & Our Favorite Feline.
Want to know the latest trends in florals, zigzags and color blocking? Read Penchant for Pattern, a post we wrote on the Drexel Heritage (client) blog.
Also on the Drexel blog, here are some additional ideas on animal prints, as well as geometric prints in A Bite of the Big Apple.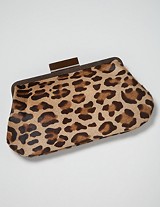 Back to incorporating prints into your work wardrobe. I think Boden is one of the best places to shop to get this right because most of their styles are classic, and because of the company's British influences, they don't seem to be as afraid to use and mix patterns and prints as much as some American designers seem to be. I love the Uptown Jersey Dress for a pretty and not over-the-top floral dress that looks great for the office, the animal print belts (with a splash of color) are just the best, and I  might have to put one of these leopard clutches or totes on my Christmas wish list!