This post originally appeared on Tips and Trends, the blog for Drexel Heritage (Clairemont client). In fashion, cool and warm tones are being mixed and melded, and the result is anything but lukewarm!
Posted on 12. Oct, 2011 in Color Forecasting, Trendy Tips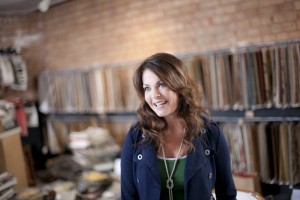 Two distinctly different masterminds lead our creative design team. First, meet Denise. Her style is cool, hip and feminine with a European slant. We also want you to know Carl. His style and manner is warm, friendly and funny with a penchant for detail, detail, detail. It's interesting that this "cool and warm" commingling design combo is also playing out in the world of design on the streets of NYC. Let us explain.
In a traditional design approach, harmony is achieved by bringing together colors with a similar value. For example, icy blues, dove whites and silvery sages might reside beautifully in one cool and collected palette, while those dusty taupes, teals and tawny browns are in another neighborhood.
The rules are changing. As a design team, Denise and Carl meld two style perspectives and approaches. In fashion, so-called cool and warm tones are mixing it up, and the result is anything but lukewarm – it's hot! "It's really refreshing," Denise notes. Her favorite: a warm espresso dialed up and down across a diverse spectrum. "It's already an important accent color in our line, and I think there's room for expansion. Stay tuned."
The new hues are not limited to fabrics and textiles. Wood furniture is traditionally brown, "but who said so?" asks Carl. Most of the Drexel lineup is available in more than 40 custom paint and finish colors ranging from Tangerine and Apple Green to a Smoke, Linen and Fog. The design team is "in the lab" now calibrating new paint color introductions inspired by travel and fashion trends.
Are you a student of color? Be sure to share your thoughts, and stay tuned as we discuss more color trends in part three of our trendspotting series.