While we might be months away from the turkey, mashed potatoes and pecan pie of Thanksgiving, there's no time like the present to acknowledge a few ways we're grateful! Without further ado, welcome to the Clairemont team's rendition of "Thanksgiving in July."
Tracy Lathan
During all the craziness of the past few months, I have been so very thankful for the opportunity to spend extended time at our family home at Harkers Island. Everyone is happier there, and it feels like life is normal, even if only for a few days. This porch is the perfect place for morning coffee, afternoon reading, sunsets, family dinners and especially "God winks," like this one:
Dana Phelps
During the pandemic, I have been so grateful for my front porch. It is a respite from being inside my home that gives me a safely distanced connection to my neighbors. I love seeing families walking together, kids riding bikes by my house and most of all, neighborhood doggies out for their evening strolls!
Anna Beth Adcock
Over the past few months, I have been especially grateful for my family and for any opportunity I can catch to spend time outdoors. When I'm lucky, family and outdoor adventures combine, like the backpacking trip I recently took with my brother along with a few sporadic trips with my sister to visit our aunt (and her dog) in Wilmington. Family, time at the beach and a precious pup makes for three really big reasons to be thankful!
Cherith Andes
When COVID quarantine hit, I needed a "something" — a hobby to channel my attention. And for the first time, I tried my hand at being a green thumb. These potted plants grew from tiny little sprigs into these lovely blooms, and they have brought me so much joy and a reminder to enjoy life, growth and vibrancy.
Kelli Fletcher
As we wrap up month FIVE of this COVID craziness, it has gotten a bit harder for me to find those sparks of joy in each day. However, I remain so grateful for my family. We are lucky to see both sets of grandparents who live not too far from us in Raleigh. At their houses, the kids can explore new backyards, visit community lakes to feed the fish and get a whole new set of snacks! Through these actions, I've become MOST grateful for my kids' simple – almost naive – outlook on the world. Seeing such a strong joy and wonder in their eyes makes it impossible to not feel the same and during this time, it's a nice mental break.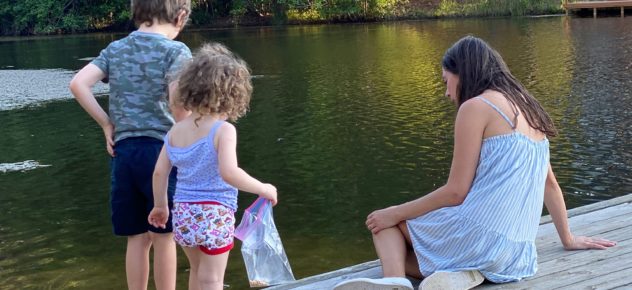 Curious about more of our quarantine chronicles and other team-related escapades? Check out the Clairemont Team section of the blog!
By Clairemont intern Anna Beth Adcock, a rising senior at NC State.