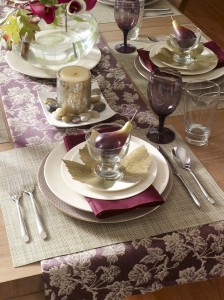 Thanks to Facebook, I know that my friend, Gini Dietrich, has had her Thanksgiving menu planned for a few weeks now. And last weekend, I saw photos of the Thanksgiving centerpiece she so deftly created by using seasonal squash and leaves she gathered while walking her dog, Jack Baur. People like Gini know where the salad fork goes and which direction the knife blade should face. People like me do well to have enough clean forks for my guests and to remember to make the salad.
One of the advantages of working with home decor and interior design clients is that I get to learn all the rules and traditions I was never taught or have forgotten along the way. Clairemont recently wrote a blog post on one such topic for our client, Drexel Heritage, on how to arrange a proper table setting. This has become my go-to reference as the entertaining season has begun.
Additionally, this week on the Drexel blog, we're providing decor inspiration with three different styles of beautiful holiday tabletops designed and shot by Diana Parrish. All are properly set, of course, each with its own creative flair! See, following the rules doesn't ALWAYS have to be boring.