Earth Day might have been last week, but each Thursday at Clairemont is a Green Thought Thursday! Today, Clairemont intern Margot Horgan shares why going green is so en vogue…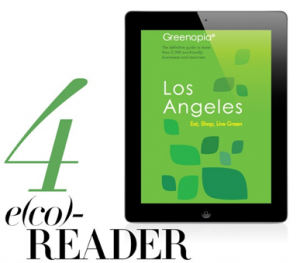 In honor of Earth Day, Vogue published a list of its top ten must-have items for going green. With everything from home goods, to food, to transportation, this list of items is 100 percent stylish and 100 percent eco-friendly. We've shared the list with you below, so make sure to check it out!
1.     Suntanned leather shoes from Esquivel. Why Vogue loves it? The suntan collection is made with only sun-tanned leather and for the first time, George used the sun as a tool to bronze the leather eliminating the use of harmful dyes and treatments as well as lowering the number of energy-consuming machines traditionally used in the production of shoes.
2.     The Natural bamboo bicycle from Panda Bicycles, starting at $3,000. Why Vogue loves it? This company, based in Colorado, produces the first steel-lugged bamboo bikes hand built in the U.S. The bamboo is sustainably farmed and processed, and they offer custom paint and finishing touches to ensure each bicycle is different.
3.     Freitag Truck Tarp tote bags, F52 Miami Vice, $105. Why Vogue loves it? The bags are unique because they are made from used truck tarps—each one having its own look and its own state of use. Furthermore, each one-of-a-kind bag is still cut by hand in Zurich, Switzerland, and gets its individual look depending on the color, the writing, and design of the tarp.
4.     Greenopia Digital City Guides, $5; Available May 1. Why Vogue loves it? Whether you're looking for a nontoxic dry cleaner or the best natural shampoo, download the online guide Greenopia, which lists eco-friendly retailers and services in major cities from Honolulu to New York—all without wasting a single piece of paper. And, with their new e-reader version, you can get access on the go, making it even easier to stay green while traveling or on vacation.
5.    La Isla hand-embroidered bikinis. Why Vogue loves it? La Isla has partnered with Jean-Michel Cousteau's Ocean Futures Society to donate a portion of its 2012 proceeds to his organization, which works to protect oceans and educate children about their importance.
6.    Irving Farm Coffee Company special edition Rainforest Foundation coffee bag. Why Vogue loves it? All of the Irving Farm Coffee Company's beans are roasted at its farm in upstate New York, and from every coffee bag sold, $1 is donated to the efforts of the Rainforest Foundation. Plus, the bag itself biodegrades, leaving behind only water, CO2, and natural fertilizer. Continue reading "Green Thought Thursday: Vogue's Top 10 Must-Haves"