On March 13, 2015 I said a final farewell to my sweet Jack Russell Terrier, Piper, after 13 years together. The sad goodbye actually started months earlier, on December 20, when I received a call from the vet and learned that she had transitional cell carcinoma – bladder cancer. The prognosis was grim to say the least. I was told she had only weeks to live and that I should prepare myself to make the decision to have her euthanized.
From the moment I received the phone call, I vowed to love Piper as much as I could and to make her as comfortable as possible for as long as I could. We spent a weekend at her favorite place, Holden Beach, visited all her favorite parks and trails and took extra long walks daily. I also let her eat all the human food she could stomach – including rib bones.
I'm not sure if it is was all the love she was being showered with, or simply her tenacious nature, but she had more than a couple of good weeks; she had a couple of good months. However, in early March I started noticing signs that let me know the cancer was progressing and I came to the realization that she was in a lot more pain than I wanted to admit. The end was quickly approaching, and I would have to make the one decision I hoped I would ever have to make.
But how could I be expected to make this decision? Piper and I had been through so much together including 11 moves – two of which were cross country and she was in my lap both times for all 3,500 miles –  four jobs, two careers. Not only that, she was always the one who consoled me when I was sad or calmed me down during times of high stress. She was my constant companion, and I could not imagine life without her.
Throughout the process, I was in touch with Dr. Maria Glover at Kildaire Animal Medial Hospital. She and I spoke on a regular basis as I updated her on Piper's situation and proceeded to ask her a ton a questions. On more than one occasion she told me that I knew Piper better than anyone and I would know when it was time to put her to sleep. I never thought it would happen, but it turned out Dr. Glover was right. After many good days and bad days with Piper, I was suddenly aware that I was being selfish and Piper was suffering.
My husband and I were with her in her final moments, and I wanted to make sure she knew how much we loved her and that I was grateful for the all the joy she had given me throughout the years. I hugged and kissed her, told her she was a great dog and that I would never forget her.
In the days that followed I was overwhelmed with texts, phone calls and sympathy cards. However, it was the card I received from Dr. Glover and her colleagues that moved me to tears. On the outside it simply read, "With Sincere Sympathy," but when I opened it up I could hardly believe my eyes. Not only had 13 people written a heart felt note, but a separate card was enclosed informing me that Kildaire Animal Medical Center had made a monetary donation to the Andrew Davis Memorial Fund in memory of Piper.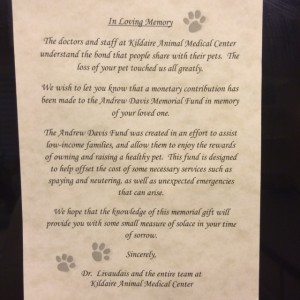 A portion of the card reads, "The loss of your pet has touched us all greatly." While I knew they all cared about Piper, this line really stood out to me. As I continued reading, it became evident just how moved they were by the loss of Piper. The Andrew Davis Memorial Fund is set up to help low-income families pay for basic services as well as emergency procedures.
This simple, yet extraordinary gesture was completely unexpected, but greatly appreciated. While I continue to miss Piper each and every day, knowing the donation made in her memory is helping others experience the joy of having a pet brings a smile to my face.