After 20 years as a television news anchor, Sharon Delaney McCloud now works behind the camera as a managing partner at Greenroom Communications and has never been happier. In today's Oh Momma Monday Q&A, Sharon shares with us why she made the switch and what motherhood has taught her about work, life and what's really important.
What is your occupation?
Managing Partner of Greenroom Communications, a Raleigh-based video production and digital marketing agency.
What inspired you to start your own business?
I wanted to see my family. After 20 years as a television news anchor working crazy hours, a couple of us newsies decided to go out on our own. While we certainly don't work fewer hours, they are OUR hours.
How has your career/professional life changed since becoming a mom?
I feel like becoming a mom opened up a magical place inside me, and nothing else can even remotely compare. I'm forever grateful for these amazing little people that are my children. They bring me endless joy and frustration every day. Making sure I can enjoy being with my kids as much as possible does require tremendous time management skills, and although I fail at it often, I do my best each day to prioritize work schedules with my family's needs.
Any tips for juggling work and motherhood?
The work can wait. Honestly, is a client or a project really worth missing a performance or a ballgame that can't be duplicated? Of course I don't attend EVERY one of my sons' practices and/or games, but if there is a way to shift my work schedule so that I am in the stands cheering them on, I do it.
Most important thing motherhood has taught you…
We are here for a greater purpose. My legacy is my family, not my work. While I'm immensely proud of what Greenroom has become, in the end, it's my family of which I am most proud.
What do you enjoy doing when you have down time?
Downtime – LOL. Family game night on Friday nights at the McCloud house looks like this: jammies, hot chocolate, pizza and the fireplace roaring, if it's winter. We generally start with Clue or Yatzee and move to Rummikub or Qwirkle. In the summer, we spend lots of time in our cul-de-sac playing Kan Jam or riding bikes on the Greenway.
What are your favorite Raleigh hotspots?
My favorite Raleigh store is Deco. I always find the perfect gift and rarely walk out of there without a cool, new Raleigh t-shirt. For eats and drinks, my go-to spots are The Rockford, Raleigh Beer Garden, Clouds Brewing and The Station.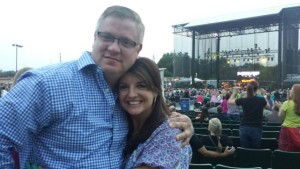 What are three of your "faves" right now?
My new iWatch. I drank the Apple Kool-Aid years ago and it just keeps going.
Also, live concerts at Walnut Creek Amphitheatre fill my summer calendar. I have a whole routine where my crew meets at my house, we load up my coolers with adult cocktails, beer and food and we head to "The Creek" to tailgate for a minimum of two hours before showtime. The bigger the "hair" band, the bigger the tailgate.
Want to read about other inspiring moms in Raleigh? Check out previous Oh Momma Monday posts here.