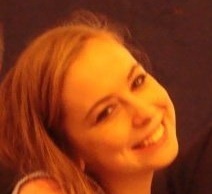 And last but certainly not least, meet Emily Tracy, Clairemont's third "e" summer intern! Like Erin, Emily also joins us as a rising senior at The University of North Carolina at Chapel Hill, where she is a J School student. Emily has hit the ground running (no surprise as she ran cross country and track in high school) and we are excited to have her join the Clairemont team. I recently had the chance to sit down with Emily, and here are a few highlights from our conversation…
A Triangle native, Emily is from Apex and attended Middle Creek High School. She is into house music, running, blogging, and is currently pursuing a double major in journalism and political science. She is passionate about the non-profit sector. She studied abroad for the summer – not in Italy or Spain like most students – but in Kosovo, Bosnia-Herzegovina and Croatia.
I asked Emily about other jobs, groups or organizations she is involved with. Turns out Emily is a busy girl. Prior to joining Clairemont as a summer intern, Emily also completed internships at WCHL and KnowTheMusicBiz.com. She works part-time as a barista at Cup-a-Joe in Chapel Hill and has served on the PR committee for UNC-Dance Marathon, a UNC fundraiser. She is also a campus ambassador for Procter and Gamble and helps plan events and market P&G products to students. (Best part about this is she gets tons of free samples of great new products!)
We talked about her plans for after college and she shared that she would like to join the Peace Corps and hopes to someday live in New York City. She is very interested in the non-profit sector, and women's health issues in particular, so hopes to find a public relations job in that area.
Other fun facts about Emily:
She is a terrible driver – so watch out!
Her favorite TV show is Girls on HBO
She loves any kind of dip or condiment – salsa, queso, etc.
She has two tattoos
The last book she read was Everything is illuminated
She has a new cat named Purrito
She drinks a lot of caffeine – not a big surprise since she works at a coffee shop
She considers herself to be technologically challenged, so new phones, cameras, and computers don't stand a chance
I'm sad to say it's been more than a decade since I was a senior in college, but I'm quite certain I was not this civic minded or focused on my future plans at this point. It's exciting to see the next generation of PR practitioners – we are in good hands! So, welcome to Emily and all of our Clairemont summer interns – we hope it's a worthwhile experience for us all!