For today's Green Thought Thursday, we'll take a look at local foods as taste tested by our intern Hope Hemby!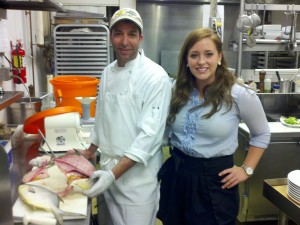 Located in Raleigh hotspot Glenwood South, Zely & Ritz takes pride in using local ingredients and organic food. In fact, it's the only restaurant in the area to have its own farm! Coon Rock Farm in Hillsborough provides Zely & Ritz with freshly grown veggies and pasture-raised meat and eggs. The restaurant also buys ingredients from 50 other local farms. My friend and I decided to check it all out for ourselves and to see if Chef Sarig would live up to his reputation and wow us with a culinary masterpiece.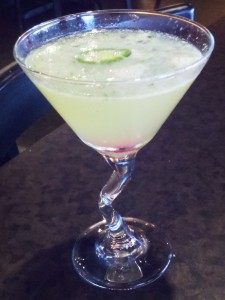 Sure enough, we were not disappointed! Upon arriving to the restaurant, we were greeted by the friendly staff and were seated in no time at all. We started off the evening with one of Zely and Ritz's signature drinks, the tequila cilantro cocktail. The drink was so fresh and unique, and with a slice of jalapeno, had just the right kick to it.
While we sipped our cocktails, we were able to take in the amazing atmosphere, unique décor and just enjoy the ambience. We nibbled on the warm, freshly baked bread and ordered a delicious starter of creamy brie in between a pastry with mixed greens with a hint of apple.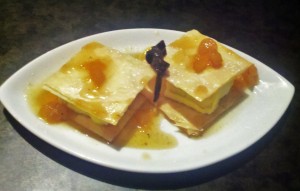 After our mouth watering appetizer and much deliberation, we finally decided on our entrees. I opted for the sweet potato gnocchi, and my date went for the steak. We could not decide which one we liked better! His beef was perfectly paired with a cilantro and lime reduction. My sweet potato gnocchi was mixed in with brussell sprouts, broccoli and a tasty spinach puree. We also just had to order a side of the creamy asparagus risotto!
We ate to our hearts' (or stomachs') content, and just when we thought it couldn't get any better, it did. Chef Sirag told us he wanted to make one of his favorite desserts especially for us! We were lucky enough to try the most decadent dessert, a feta cheesecake with an apricot glaze. The fresh cheesecake was perfectly positioned in between a light, golden pastry and was garnished with an artfully arranged vanilla bean pod.
On top of the impeccable service, decadent food and incredible atmosphere, I got to snap a picture with the chef!
Zely & Ritz strives to support local ingredients and provide the Raleigh area with the option of delicious, healthy foods that not only taste good, but are good for you!