The Clairemont team holiday tradition of playing White Elephant with regifted items started when a Clairemont team member told a story about never liking gifts from an in-law. When describing what exactly these gifts were, another Clairemont team member thought they were great! This sparked the idea of regifting. I mean, one person's trash is another person's treasure, right?
That holiday season each team member brought in an unwanted gift. The team decided to play White Elephant, a game of giving useless items and stealing what others have.
White Elephant was a hit and quickly became a Clairemont tradition. From a slimy fake banana that was passed around for years, to a battery-operated light-up tree that went bar hopping with the Clairemont team, our white elephant games have had it all. While the team loves seeing what people will bring, this is also an economically and environmentally friendly way to celebrate.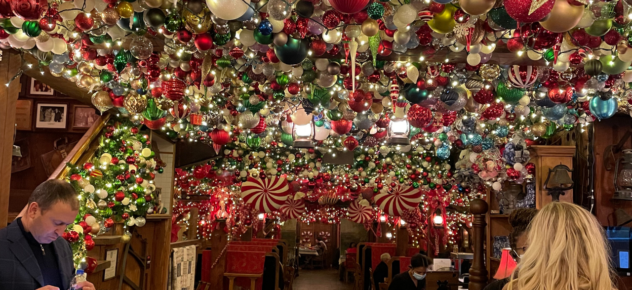 This year, the Clairemont team dined at the Angus Barn, a Raleigh holiday season favorite. The Angus Barn serves American-style cuisine including in-house steak, fresh seafood, locally grown vegetables and homemade desserts. The Angus Barn decks the halls with ceilings full of ornaments, massive trees and lights galore.
The Clairemont holiday tradition of White Elephant continued this year. The team brought a ninja bobblehead an Airbnb guest left at the Clairemont house, candles from an endless collection and a Chia Pet from another White Elephant party from years before.