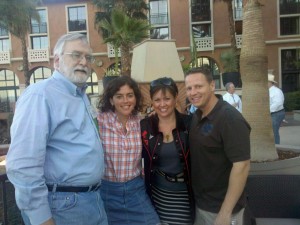 With the Clairemont office in the heart of downtown Raleigh, we are delighted — but certainly not surprised — to learn that our city has earned the number one spot on a Best Cities list by Businessweek.com. Not only is it a wonderful place to live, it is an amazing place to work in communications and public relations. THAT is one of our favorite things about Raleigh!
We have the honor of working side-by-side with other local communications professionals from agencies, corporations, non-profit organizations and educational institutions through our active memberships in the North Carolina Chapter of the Public Relations Society of America (NCPRSA) and Raleigh Public Relations Society (RPRS). Additionally, with my membership in PRSA's Counselors Academy, I have the pleasure of hearing comments such as, "Wow, you have tremendous industry leadership in Raleigh," each year at the annual conference.
From local chapter leaders like Eva Hornak, Glenn Gillen, Kelly Hubbard and my PRSA chapter co-delegate Cindy Stranad (to name just a few), to my local Counselors Academy friends Karen Albritton, Chuck Norman, Roger Friedensen, Mike Davis and Mike Herman, I could describe the type of business community these PR pros represent in a word: collaborative.
Speaking of Mr. Herman, as the 2009 PRSA Gold Anvil recipient, he alone
brings so much PR cred to Raleigh. Thank you Mike for sharing your words of wisdom last week at our PRSA chapter luncheon. Clairemont is fortunate to have you as a strategic adviser, and I am honored to call you a friend.
Fellow Raleigh communications professionals, what do you love most about being in our industry in this fine city? Other Raleigh folks, what do you love most about it? Visitors (Abbie Fink!)… what keeps you coming back? While you think about your answers, here's our profile from Businessweek to give you an idea of why we're number one…
Raleigh, N.C.
Population:
377,487
Mayor:
Charles Meeker
Why it's ranked:
Taking more than a dozen data points into account, Raleigh ranks as the best place to live in the U.S. The city sports a high number of bars, restaurants, and cultural institutions as well as a thriving social scene, great parks, and good schools. Raleigh reflects the cultural graces that go along with anchoring the so-called research triangle, home to North Carolina State University, Duke University, and the University of North Carolina at Chapel Hill. Of course, it's also much more. The city offers a great deal on nights and weekends, from concerts and opera to the 30,000-sq.-ft. State Farmer's Market. North Carolina's state capital is tops in our book.
How it ranked:
Percent with bachelor's degrees: 47.5
Percent under poverty level: 13.9
Median household income: $53,370
Violent crime rate: 492.9
Property crime rate: 3,403.2
School score: 74.4
Pro sports teams: 1
Foreclosure rate: .0056
Percent Unemployment: 6.9
Park acres per 1,000 residents: 30.8
Bars: 110
Restaurants: 867
Museums: 51
Colleges: 10
Libraries: 18
Air Quality Index: 83