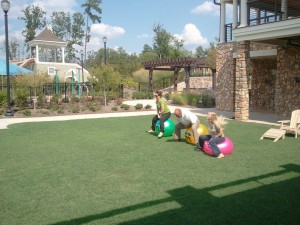 It's Green Thought Thursday, so let's celebrate…on Sunday! No, really.
This Sunday, Briar Chapel (client) is hosting OktoberBEST, a day of fun, games and friendly competitions, immediately followed by the Fourth Annual Pittsboro Pepper Festival, celebrating lots of things green.
Be sure to stop by between 1 to 4 p.m. for OktoberBEST and challenge me to a game of Wii Bowling. The winner will reign supreme as Briar Chapel's best armchair athlete. Video games not your thing? Join us outside for a race down the obstacle course. Who knows? You could even be named the next backyard athlete champion!
And bring the rest of the family, dogs included! I most definitely will be stopping by the Pooch Park for a chance to test out Charley's skills in the Canine Athletics competition. Winners from each competition can win a variety of prizes, including free tickets to the Pepper Festival, starting at 4:00 in Briar Commons, Briar Chapel's newest park.
If you've never been to the Pepper Festival before, you're in for a treat. Local farmers, local food, local chefs and local music — you'll really go loco for local. And even better, all proceeds will benefit The Abundance Foundation, a local nonprofit that seeks to educate the community on sustainability through local food and renewable energy.
So riddle me this, faithful Green Thought Thursday readers — will I see you there? I sure do hope so!