WGU North Carolina, an affiliate of Western Governors University, is an online, competency-based university designed for busy adults who need to balance work, family and financial obligations. Since coming to North Carolina three years ago, WGU North Carolina has offered a chance for many individuals across the state to achieve their higher education goals.
When the COVID-19 pandemic hit in early 2020, WGU North Carolina, often known for surprising its scholarship recipients on-site, faced a problem: How could they still present scholarships to unexpectant recipients and share the student's story in a safe, impactful way? Even more, how could they maintain and even increase the social media engagement that often came with posting the reaction of these surprised scholarship recipients?
WGU North Carolina began setting up virtual "scholarship interviews" via Zoom that acted as a pretext for scholarship unveilings and recorded each one. As the raw footage of student testimonials – and their reactions of joy, relief, pride and tears – started pouring in, our team recognized the need to share these snippets of good news with a larger audience. Therefore, Clairemont launched a video campaign in response.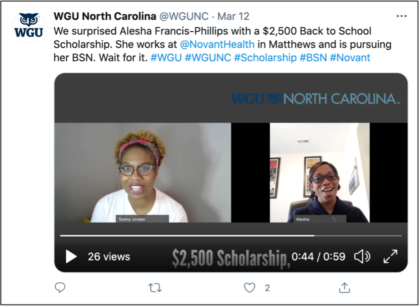 The WGU North Carolina student scholarship video campaign showcased the authenticity and personality of WGU North Carolina. Each student testimonial personalized individuals' efforts, perseverance and successes reaching their higher education goals, while Zoom backgrounds often offered a peek into their own home and day-to-day reality, many times consisting of family members. The videos spotlighted stories of moonlighting gigs, mid-life career changes, stay-at-home moms' dreams to head back to the workplace and those inspired to change their course of work and/or study due to the pandemic. A few of the video testimonials were so powerful, we decided to expand the "good news" beyond social media and reached out to the students asking if we could share the videos with local media outlets.
WGU North Carolina recorded and Clairemont edited 28 scholarship surprise videos in 2020 which garnered nearly 11,000 views (and counting!) and helped boost WGU North Carolina's followers across Facebook, Instagram, Twitter, LinkedIn and YouTube by 5 percent. Several of the videos posted also received attention and praise from WGU North Carolina's social media followers, WGU National, and even other WGU state affiliates. The video series now serves as a content cornerstone across each of WGU North Carolina's social media platforms and is an example that is referenced state affiliates when discussing video content.
Interested in reading more about the creative ways we've helped our clients? Click here.
This campaign was recognized by the North Carolina Chapter of Public Relations Society of America (NCPRSA) with an Award of Excellence. Thanks to Glenn Gillen (one of our very favorite PR pros!) and WGU North Carolina for allowing us to do awarding-winning work with you!