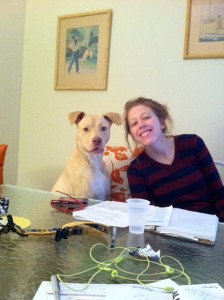 Beyond the tail wagging and the forced breaks away from the desk every few hours, are there real benefits to having dogs in the office? Yes, says the current issue of Entrepreneur in "Power of the Pooch — Dogs in the Workplace Can Make Humans Happier." One in five American companies allow four-legged friends to come to work, and according to a Central Michigan University study, a happier and more connected workforce is the result.
Christopher Honts who is leading the study, has essentially found that by having dogs at work, people are nicer to and more collaborative with each other. His findings on this have also been written about on the New York Times blog.
At Clairemont, we know that we're happier when Billy or Charley can be with us. We love our Clairemont dogs! Does your pup go to work with you? If so, please upload a photo on the Clairemont Facebook page. Yea for office dogs!