With ideas ranging from video clips to pop-up stores and social media, companies are always searching for innovative tactics to capture the attention of consumers. Technology has evolved, and the competition has grown over the years. But the concept of experiential marketing, helping consumers experience a brand in an engaging and non-traditional way, dates back to the 1800s. Even the Chicago World Fair was an opportunity for companies to highlight innovation in front of an eager audience. As the search for new ideas continues, one strategy has become increasingly popular: augmented reality.
Also known as AR, this technology provides an interactive experience by simulating a real-world environment and adding digital elements to a live view. Similarly, virtual reality (VR) takes it one step further by providing a complete immersion experience that shuts out the physical world. Both AR and VR allow companies to create memorable and emotional connections with their brand to foster loyalty among consumers.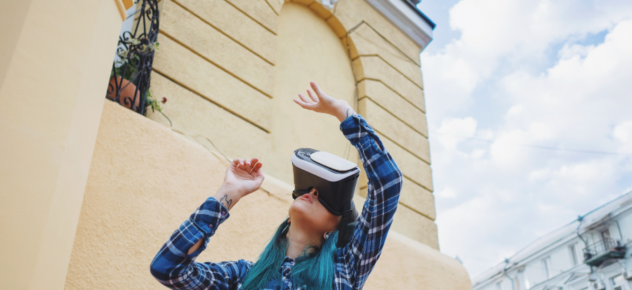 Augmented reality is still a relatively new marketing technique, but here are three reasons that sprinkling in AR (and some VR) to your batch of PR strategies is a great idea.

Allows consumers to virtually interact with a product.
Augmented reality helps consumers visualize a product in its entirety. In 2015, Home Depot paved the way in the corporate world with its augmented reality-based Project Color App. The app allowed users to test paint colors on walls of their homes! Throughout the years, it has been improved to factor in details such as lighting, objects and shadows. It simulates a realistic look as to how that shade of yellow will actually look in your kitchen (before you paint the entire wall and regret it). Home Depot has even gone as far as including augmented objects like patio furniture and cabinet knobs to try in your home.
However, Home Depot isn't the only big brand capitalizing on augmented reality. Companies across various sectors including cosmetics, clothing and furniture are starting to use similar apps. Corporate brands like Sephora, Macy's and Lowe's are hot on Home Depot's heels, as they all want to offer the option for consumers to test their products virtually before making a purchase, which results in more satisfied buyers.
Enhances storytelling of brands.
Can you imagine scaling the side of a mountain with little to no experience? Yeah, me neither … but with a mix of augmented and virtual reality, anyone can become a rock climbing professional. In 2017, Adidas created its "Climb a Mountain" campaign, which allowed users to strap on a headset and virtually climb alongside Ben Rueck and Delaney Miller as they free climbed one of the hardest peaks of the Bavella mountain range in Corsica. With the help of VR and AR, consumers felt invested in the climb, and Adidas was able to take its storytelling to the next level.
John Keats once wrote, "Nothing ever becomes real 'til it is experienced," and AR and VR can heighten your senses and turn a pretend experience into one that feels real. This strategy drives greater emotional connection to the stories companies tell, which was exactly what National Geographic was trying to do with its augmented reality campaign in London. To raise awareness and donations for endangered species across the globe, National Geographic transported mall shoppers into a wildlife sanctuary and caught the attention of the crowd. Imagine having a gazelle or gorilla approach you on your monthly shopping spree!

Creates a memorable experience for consumers.
Put aside traditional TV commercials and ads, because augmented reality creates an experience that consumers won't soon forget, especially when it comes to utilizing the element of surprise. Take for example Pepsi's 2014 "Unbelievable Bus Shelter." Pepsi wanted a campaign that would share its brand's message, "Live For Now."
As the creative wheels started turning, Pepsi created an augmented reality experience in London that morphed a seemingly regular bus shelter window into a screen that augmented outrageous scenarios into the real world. A live feed of the street paired with the AR technology surprised commuters with scenes of UFOs landing, a laser-shooting robot, a tiger running down the street and more. Not only did this ahead of the curve, clever tactic cause a media frenzy, but it increased Pepsi's sales by 35 percent the month following the campaign.
Augmented reality allows brands to get creative in their campaign execution, and a surprise reveal or interactive experience is more likely to set a brand apart.
What does this mean for brands?
We are almost halfway through 2019, and the experiential marketing sector is only continuing to grow. Technology has become crucial for brands to entice consumers, and these companies will have to get creative with their marketing and communication tactics to stand out in a competitive market.
There is no doubt in my mind that experiential marketing will see a jump in the use of AR (and VR) as it becomes more financially feasible for companies of all sizes.
Are you interested in learning more about other interesting experiential marketing campaigns over the years? You can check out Hubspot's article here.
Written by Alex Davis-Isaac, a senior at UNC-Chapel Hill.