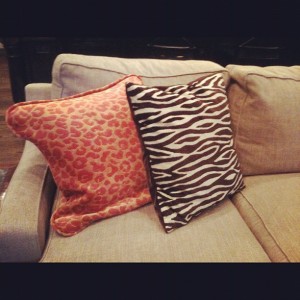 For this week's Trend Tuesday, we're hearing from one of the newest additions to the Clairemont team: the always fashionable Ashely Hurteau!
What do you get when you mix the softness of yellow with the va va voom of red? Tangerine Tango, the simple yet exotic color chosen by Pantone  as the 2012 Color of the Year. To call it orange would be an insult. Pumpkins and traffic cones are orange, while Tangerine Tango is vivacious and rich. Simply put, this bold, seductive color is the perfect way to take any wardrobe or home from ordinary to fabulous.
Pops of color are nothing new in the fashion world, but this year stylists are putting their "it" girls in this new "it" color. Whether it is a full frock or an embellishment, stars like Jennifer Hudson and personal stars, such as my mom, are turning heads with this show-stopping color. Personally, when I am putting an outfit together, I follow the phrase 'simple yet sassy.' This year I will spruce up my style by including a tangerine nail, clutch or pair of shoes. I believe that a small touch of color says, "I'm here, I'm confident and I bet you wish you had my outfit!"
For those of you who tend to shy away from bold colors in your wardrobe, try adding accents of tangerine into your house décor – it oozes style and class. I have these fabulous tangerine leopard pillows that spruce up my living room. The color, along with the print, takes my inexpensive college sofa and makes it look luscious! So whether you are like me, a right-out-of-college graduate decorating on a dime, or are able to hire an interior designer to outfit your home, show you are chic with a touch of the 2012 color of the year.
How do you plan on using Tangerine Tango or similar shades in your home? We'd love to hear your thoughts in the comments section below!