It's a More Monday! Maybe you've already heard the story, and now here's a little bit more!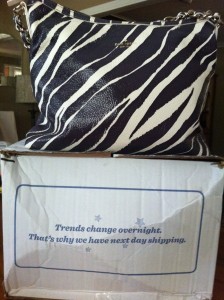 Abbie Fink and I might be the only women I know who don't like to go shopping. For me, I think it is the go part that bugs me. Sure, I like to buy things that I really like, but I don't like to spend the time to go searching or to aimlessly browse. I realize that that makes it a bit of a mystery as to why I'm so late to the Zappos game.
Thanks to Shonali Burke for piquing my interest in Zappos when I met her recently at the PRSA International Conference where she was carrying a very stylish handbag. Shonali admitted that she too had been slow to try the online shopping extravaganza that seems to have a cult-like following. She was quite pleased — and not surprised — with the exceptional service.
Now that I have tried it, sign me up as a satisfied customer. But maybe not for the same reasons that's resulted in Tony Hsieh, CEO of Zappos, holding the title of media darling for quite some time now (all really great reasons, by the way). You see, I've heard so much about how fast it is that unless my new Kate Spade arrived in pizza delivery time, it would be hard to be impressed on that alone.
Oh, and there's the return policy. I'm confident that if I needed it, it would have been as simple and wonderful as I've heard that it is. But try prying the beautiful zebra print handle from my sweaty little paws. Not gonna happen. So, yes, it arrived three days after my order. Yes, I know I can ship it back for free if I want. However, those are not the things that have made me fall handbag over heels in love with Zappos.
It's the copy! Oh, how I love clever copy, and I don't understand why people aren't talking about the (apparently) super smart and creative copywriters at Zappos. Instead of the boring "here's your shipping confirmation info" email, here's the one I got from Zappos:
Hello Dana! Your order with Zappos.com has shipped. YAY! We've enclosed some tracking information, so you can follow your order to its final destination. It's almost like being a superspy! Mission Control advises that you take a look at the top-secret information below.
Love that someone took the time to make it just a little more fun. So imagine my excitement when the box arrived, and in addition to my prized new accessory being inside, the outside was accessorized with more cute copy that reinforces one of the company's brand messages of speedy delivery. Zappos, I was slow to come around, but I hope you'll have room in your heart for one more fan. xoxox
What's the best thing you've ordered from Zappos and what was your favorite part of the experience?