They're hot; they're not. They're trending; they're tanking. Social media memes mark one of pop culture's most fickle phenomenons — right next to middle school cliques.
But memes — whether reposted or original — have proven to be surprisingly effective at boosting social media engagement. Why? One quantitative study suggests that memes not only provide the user with an active role in content creation but also invite him or her to enter into an inner social circle, sharing common emotions and jokes with counterparts worldwide. Hashtags, cartoon renderings, verbiage superimposed over celebrity photos — you name it. Memes somehow offer both individual expression and group acceptance in one fell swoop.
While this psycho-meme-analysis proves interesting, food and hospitality industries need a tactical plan to evaluate and appropriately implement popular content — including memes — into their social media strategies.
1. Is it the right time?
The lifespan for a meme is short, and like most trends, the time to jump on the meme
bandwagon is on the front end of the bell curve. Watch content from your followers, and keep your eye on these five web tools to catch wind of what's next. Be aware that many meme trends garner backlash, like the recent response to the wildly popular "Be Like Bill" trend that even The Washington Post and New York Magazine are snubbing.
2. Does it fit your restaurant or hotel's personality?
Sounds simple, but the question begs pause. Fine dining establishments, for example, may not want to align their brands with Grumpy Cat graphics that might come across as flippant or rude. Memes rely heavily on humor, which must be thoughtfully crafted and delivered to connect with your audience. Now might be a good time to reference your target demographic and its pyschographic preferences.
3. Can you tie it into real-time developments?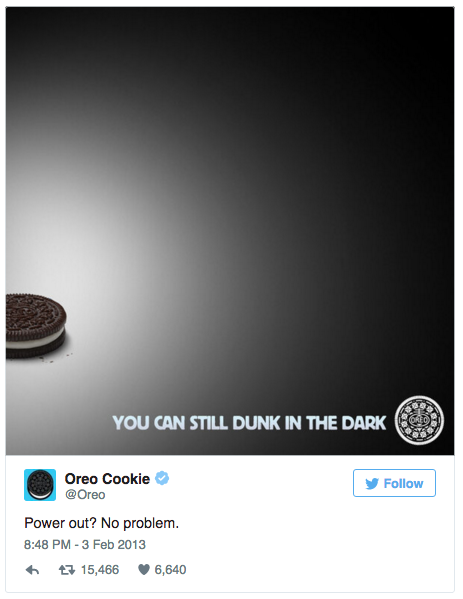 Oreo takes the cake—er, cookie—on this one. During Superbowl 2013, the social media team leveraged the game's power outage instantaneously with its clever ad, "You Can Still Dunk in the Dark". Two years later we're still talking about it. While your response doesn't necessarily need to be that rapid, use the opportunity to tout an upcoming event, special or feature about your hotel or restaurant.
Questions about how graphic messaging fits into your restaurant's social media strategy? Drop us an email (or a meme)!