Editor's Note: This summer, our fabulous Clairemont Intern Natalie Labonge competed in the Olympic Trials and returned with tales and tips!
Staying cool under pressure is a skill that is absolutely essential as an athlete.
If racing beside Olympians under bright lights with 15,000 people watching doesn't get your heart racing and stomach churning, I don't know what will! As a collegiate swimmer who will soon be transitioning into the workforce, I like to think that what I learn as an athlete can be applied to PR. At the end of July 2016, I stepped out of the Clairemont House for a week-long, pressure-packed competition – the U.S. Olympic Swimming Trials.
As a rising senior at North Carolina State University, the Olympic Trials were an experience of a lifetime. I had the chance to compete against my role models, improve my personal best times and represent the Wolfpack on a national level. It was easily the most elite competition I have ever attended. I found that there are three things that help me handle the pressure and stress of competing at such a high level, and they can apply to the fast-paced, high-stakes PR industry.
Three Keys to Keeping Cool Under Pressure
1. Preparation
Arguably the most important. As a swimmer, I need to have confidence in my abilities when I step up to the starting blocks for a race. There is a reason why my swimming schedule is as intense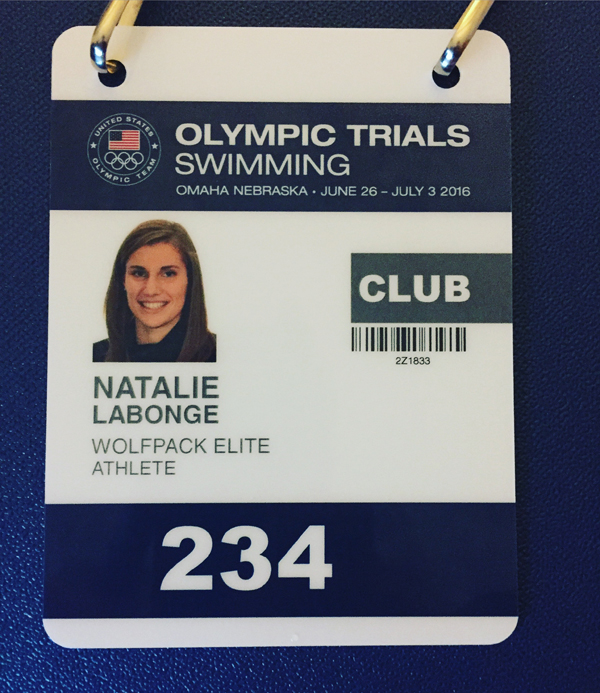 as it is — to prepare me for competition. Every practice has a specific focus. I have been training for the Olympic Trials for months (well, years really). I practice 20 hours every week to prepare for a race that will last less than a minute.
Eliminating doubt is the best way to handle nervousness, knowing that you have done everything possible to be ready for this moment. Preparation doesn't stop until the race begins. Each day of racing I made sure to wake up at a certain time, eat properly, follow a specific warm-up in the pool, wear the best racing suit and report to the blocks at the right time. Focus on controlling what you can control, and trust your training to do the rest.
The PR Connection
In PR we all know the key to a successful campaign or event is how well you prepare. The research and planning stages are extremely important, because they allow you to create well-informed strategies and implement the tactics necessary to reach your objectives. Being flexible and handling last minute changes at an event is much easier when you have prepared yourself and your team. Be the expert in your field.
2. Repetition
By repetition I mean putting yourself in high-pressure situations repeatedly. It is important to know what it feels like to have your back against the wall. I have been swimming for many years and been to more swi
m meets than I can count. I am about to enter my senior year at NC State. With three years of collegiate swimming under my belt, I have competed in the ACC and NCAA championships multiple times; I know how it feels to have an entire team relying on you. Each time I go to a championship meet, I stay a little calmer than the time before and learn how to perform the best I can for my team.
The PR Connection
Public speaking, interviews, presentations, talking to the media: these are all skills that do not come naturally for most. It is necessary to practice these stressful situations as often as possible until you become, as an old coach used to say, "comfortable with being uncomfortable." Media training and talking point preparation are strategies that can give you an edge under media spotlight.
3. Perspective
Keeping perspective can be tricky in stressful situations. At Trials I made sure to enjoy the experience for what it was — a once-in-a-lifetime opportunity. It
was an honor just to compete in Omaha for a chance to represent Team USA. Instead of freaking out because my race was live on NBC, I did my best to have fun, wave to the camera and enjoy being on national television. (I mean how cool is that!?) Since a large group of NC State swimmers qualified for Trials, I also had a blast sharing the experience with my teammates and coaches!
The PR Connection
Working in PR with a variety of clients can provide opportunities to attend engaging events and destinations on the job! As the saying goes, make sure to stop and smell the roses along the way. Also, remember your role as a member of a (PR) team. The best teams are those that motivate their members to do their best work and can enjoy the process of contributing.
The week I spent at Olympic Trials was one of the most inspiring and humbling weeks of my life. From watching dreams come true as athletes made the Olympic team to seeing the heartbreak as others miss qualifying by .01, I felt such an appreciation for the hard work invested by every athlete and coach there. I was fortunate to accomplish my own goal of qualifying for the semifinals in the 100-meter butterfly, which was one of the most exciting moments of my swimming career.
Editor's Note: We've had some great interns over the years! Check out some of their other adventures, like Kaitlyn Goforth's journeys to Amsterdam!