In lieu of our usual Q&A session, we'd like to dedicate this Whaddaya Think Wednesday to Triangle Family Services' 9th Annual Gingerbread Benefit. As huge proponents of this wonderful organization that helps more than 7,000 individuals and families in the Triangle each year, we were honored to create a media strategy for the benefit, the agency's premier fundraising event.
Believe it or not, we began planning our media strategy for this year's Gingerbread Benefit at last year's Gingerbread Benefit! After successfully landing coverage with the News & Observer, Triangle Business Journal, Cary Citizen, Garner Citizen, ABC 11 and several local online news sources (and winning an Award of Excellence during the North Carolina Public Relations Society InSpire Awards, as well as a Gold and Best in Division award from the Raleigh Public Relations Society Sir Walter Raleigh Awards), we set even higher goals for 2012.
Through carefully crafted messaging and diligent pitching efforts, all of the hard work paid off! TFS received some really critical coverage before the big Dec. 1 event, making it the most successful Gingerbread Benefit to date! So whaddaya think about that?
Check out some of the coverage by visiting any of the links below:
Articles
The 8th Annual Gingerbread Benefit
Leslie Huffman, Cary Citizen
>>View Article
Gingerbread Benefit
Cary Magazine
>>ViewArticle
Gingerbread Benefit
Zack Smith, Independent Weekly
>>ViewArticle
Gingerbread Gala on tap for Triangle Family Services
Carol Tanzer Miller, The News & Observer, Mouthful
>>ViewArticle
Gingerbread Houses Raise $90,000 in Cary
Lindsey Chester, Cary Citizen
>>View Article
Videos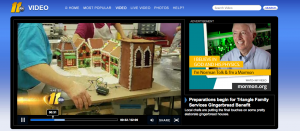 Preparations begin for Triangle Family Services Gingerbread Benefit
ABC 11
>>View
Triangle Family Services
ABC 11, Heart of the Carolinas Perspectives
>>View
Triangle Family Services Gingerbread Benefit
NBC 17
>>View
Triangle Family Services Gingerbread Benefit
Winston Salem Journal
>>View