Photo credit Allie Miller Photography
Leigh Hines is a master at juggling, and she jokes that she has more occupations than a magician has tricks up his sleeve. After 10 years of focusing on family as a stay-at-home parent, she is getting back into the workforce and following her passions. Leigh took some time to share with us what inspires her and how motherhood has changed her life.
What is your occupation?
I am a lifestyle blogger, travel writer, travel/social media marketer and journalist, and I am in sales. In short, I'm my own boss. I love it and would not have it any other way.
I'm also the founder of HinesSightBlog, a lifestyle/food/travel/hotel blog, and the founder of #OutaboutNC, a travel marketing business specific to North Carolina that I started last January.
What inspired you to start blogging?
For years I was a TV journalist and communications executive in state government before having my first child. I was told what to cover and what to write on a daily basis. Those jobs paid my bills, and I am forever thankful for the experience and livelihood, but the topics that I had to cover were never my passion. I used to spend every bit of my free time before my kids were born planning trips, picking out restaurants, writing hotel reviews on Trip Advisor, learning about spa treatments and looking at hotels online. I knew so much about the hotel industry that my personal friends started asking for my opinions. Bingo. I decided to start writing about what I liked to do for fun, which also enabled me to keep up a journalism portfolio while I stayed at home with my children.
How has your career/professional life changed since becoming a mom?
When I became a mom, I gave up going into an office and working for a weekly salary. I have flexibility now, which is so important, but I no longer have a steady paycheck. I love what I do at this stage in my life because it's my passion, but I have had to build my business more slowly because the kids need to be the priority.
Most important thing motherhood has taught you…

You are no longer top dog. Your children's needs and desires will always come first.
What makes a good blog post in your mind?
Most professional bloggers are planners. I happen to be a spontaneous person, so my blog posts are very rarely planned out. When I can find the time, I crank out a post, and often times my best posts are those that I whip out in 30 minutes. Why is that? It's because they are raw and real. I'm not thinking too hard.
Go back to the questions that you learned in journalism school. Why should your readers experience this? What value does this hotel or product provide them? How do they get it? When should they go and why? Who does the hotel or product serve best?
What do you enjoy doing when you have down time?
My downtime is what I consider my work. Sounds crazy, I know, but I focus on travel and hospitality. I love researching hotels and destinations and answering people's questions over coffee at my desk. It was my "hobby" before I started trying to make money at this gig, and it's still my favorite hobby.
What are your favorite Raleigh hotspots?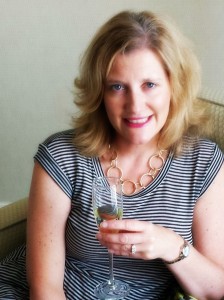 If I were to pick three ideal evenings or things to experience, it would be relaxing at the Umstead Spa in Cary, afternoon tea at the Washington Duke Inn in Durham, N.C. and enjoying gourmet pizza and craft beer at Trophy Brewing in Raleigh.
What are three of your "faves" right now?
On Netflix, I enjoy Downton Abbey and Sherlock. Earlier this year, I wrote this post about my favorite discoveries in 2015, and I'm seriously driving all over town for that creamer I put in my favorite coffee, Larry's Beans Cowboy Roast from Whole Foods. I also use this Young Living Tranquil roll-on before I get into bed, and it's sweet dreams quickly. I never stay awake in bed now and think about all I need to get done. I also look forward to my weekly Papa Spud's delivery. I love eating fresh and local food at home now.
If your kids could write a post for your blog, what would they say?
My son does write posts on occasion. And I set up Instagram accounts for my kids this year for their travels that I oversee since they are underage. If they were to write a post on the blog, it would focus more on the adventure side of travel, since I clearly just want to eat and be lazy.
Check out previous Oh Momma Monday posts for more inspiring stories!