Big, blousy and bold. We're in love with 2015 fall fashion trends—especially the next iteration of palazzo pants. Returning from the 1970s, palazzos range from light-weight, monochromatic culottes to vibrant floor-length dusters. And to our utter delight, these summer staples are staking a claim in our fall wardrobes! Solid, crisp white palazzos pair well with stilettos for an evening soiree, while their floral counterparts can be offset by chunky heels for a workday splash.
Best of all, this trend resurgence allows us to put a fresh twist on one of our favorite spring pieces. Dare to flare or flow with our top three tips to pizzazz up your palazzos this fall.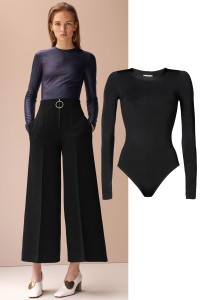 1. Opt for Tailored Tops: Pair your palazzos with a contrasting fitted top, such as a body suit or a tailored jacket. The loose pants-and-shirt combo of the summer is giving way to a more polished look that offsets flaring pants with snug tops. Bonus: This new combo boosts the dressy factor, making palazzos a staple of both work and evening wardrobes. At Clairemont, we've experimented with tailored jackets and fitted sleeveless blouses to accent our own palazzo favorites.
2. Pattern Yourself Perfectly: For holiday parties or upscale soirees, take a hint from CoCo Chanel's hip-to-waist pants that often replaced a skirt in her resort-wear wardrobe. Opt for soft, winter-white palazzos with sophisticated stilettos for upscale functions. Otherwise? Don't be afraid to sport patterns this fall! Large floral, mosaic or geometric prints pair well with solid tops and chunky statement jewelry. Bridgette Raes, style expert, lays out a few ground rules for wearing patterned palazzos, including choosing cropped tops and accentuating your waist against the flow of the pants. Take it from local fashion blogger, Whitney Blake: patterns—including palm prints—are big hits.
3. K.I.S.S. (Keep It Simple, Silly): If all else fails, aim for classic, clean and straightforward. While this may seem counterintuitive with unstructured palazzos, the accessories make the outfit. Let the palazzos—whether plain or patterned—form the ensemble's cornerstone. Simple blouses provide a mellow partner to the statement of the pant, while the "pop" of style should come from the accessory, such as a bright red pump or a sparkling ring.
What top trend are you sporting this fall?